Cowboys baseball heads to sectional finals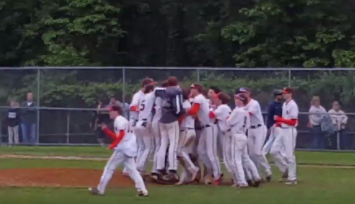 Update: The boys were victorious at the State Sectional Championship. They play Whippany Park today, June 6, at Belleville High School.
The boys baseball team came up with a massive victory on Tuesday, beating out Pequannock in a 2-0 win. This marks the second year in a row that the guys will be heading to the Group 2 Sectional Finals.
Despite the on-and-off weather, the boys came through with excellent performances all around. Brandon Siegenthaler pitched a shutout, helping to fight off the other team.
Senior Tom Brown had a huge RBI, propelling the boys into a definitive lead. The boys looked solid all around as they battled through a tough game filled with spectacular performances in both the infield and outfield. This game marked their 20th win of the season, and the last home appearance of the season.
This Friday, the boys are heading to High Point, looking for victory number 21 in the Group 2 State Sectional Finals. Students will be updated about the possibility of a fan bus to go out and support the boys in the biggest game of the season.
This very well may be the last sporting event of the entire school year, and for some, the last opportunity to go to a game in their high school career. All students are encouraged to cheer on the team, hoping to draw a record breaking crowd.
Senior Billy Siegenthaler spoke with me about the anticipation for Friday's game. He said:
"We've worked for this all year and we truly believe we deserve this. All of us still remember the loss last year to Jefferson and can't get that feeling out of our stomachs. We know we have what it takes and don't want to feel what we felt last year."
The Cowboy Crazies have been extremely active this year in supporting the athletic programs, and it seems fit that we pull out one more rowdy student section to close out the spring season. Any updates will be posted on Twitter under @PascackHillsBB.