Derby: Round 3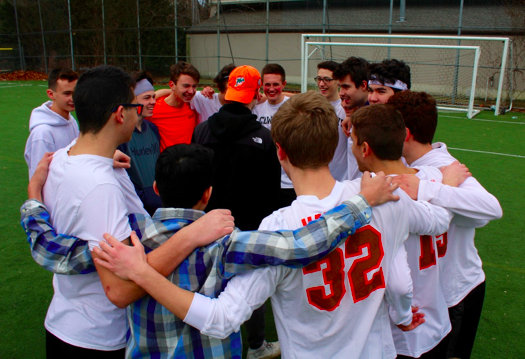 As the XXIII Winter Olympics comes to an end, the rivalry between the Pascack Hills Class of 2019 male soccer-players continues to rise. Around 11:30 am on Saturday, February 24, junior boys from Montvale took on Woodcliff-Lakers for the third-annual "derby."
Starting in middle school, the Fieldstone Falcons and Woodcliff Lake Warriors boys soccer teams saw nothing but rivalry among the two teams. As high school came to a start, the Freshmen boys soccer team found nothing but hate for their teammates and needed to find a way to settle which town was best. Hence, the first Derby was played.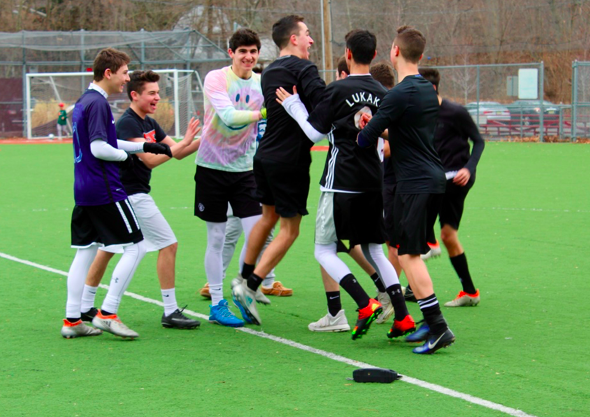 Woodcliff Lake getting hyped for the game
"Derby is my favorite day of the year. I literally look forward to this day for the entire year," said Junior Sophie Mazzei. Along with being an avid Cowboy Crazy, Mazzei is one of the biggest fans of the Woodcliff Lake Warriors during derby.
Both Montvale and Woodcliff Lake formed freshmen teams of 11, along with a fan club, and met on a Saturday morning at Fieldstone Middle School. Playing on Montvale's home turf may have jinxed the boys, as Woodcliff Lake took the "dub" at the first annual Derby.
In the Spring of sophomore year, the rivals met back on Fieldstone turf to settle, yet again, which town would be back on top. Unfortunately for Montvale, Woodcliff Lake took the trophy – bragging rights – for another year.
Woodcliff Lake coach Nate Barcus, also known as "Brad ", is very dedicated to the game. For the past three games, Barcus claims the best thing a fan section can do is "show face, make some noise, and get some good eats after."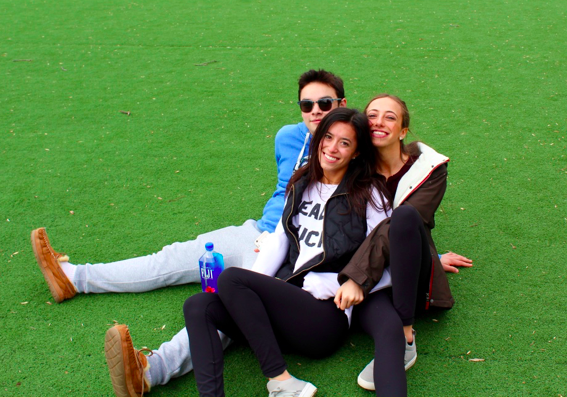 Nate Barcus, Melanie Meisner, and Skylar Bachman cheering on Montvale and Woodcliff Lake
This weekend, the third annual derby was played at Park Ridge Memorial Field. Neither team could claim the land as "home turf", making it a completely fair game. Montvale showed face in white, Woodcliff Lake in black, and the fan sections were bigger than ever.
As Ryan Dicaprio's first game on the turf after suffering from an ankle injury, "it was a tough game, but even though WCL was 3-0 at the time, Montvale was down to win at some point."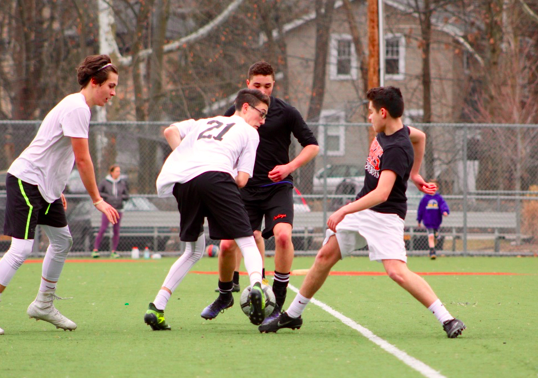 Brett Kravatz, Hunter Giovanelli, Ryan Dicaprio and Jake Goldsmith fighting for the ball
Leading up to the game, there was major "beef" between Woodcliff Lake native Jack Torre and Montvale native Brett Kravatz. This would lead to an even more intense game.
The first goal was scored by Woodcliff-Laker, Jack Torre. Next, Montvale native Luke Aschenbrand tied the game. In the third annual derby, Woodcliff Lake took an "L" when Montvaler Evan Mangine scored the winning goal.
From the winning team, Brett Kravatz said, "The derby is always a very important event to the players and something that's looked forward to for weeks. To come out with a win with some of my best friends is a great feeling."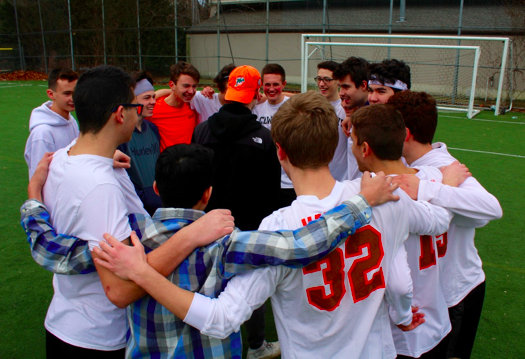 Coach Giammanco getting Montvale hyped for the game
Although Montvale won, it was not an easy game for either team. Woodcliff Lake had two players, Kyle Wyman and Josh Cooper, show up almost half an hour late, along with offense player, Jake Goldsmith suffering from an overdramatic ankle-sprain; but, Montvale put together their more football and baseball-oriented brains to outscore the Warriors.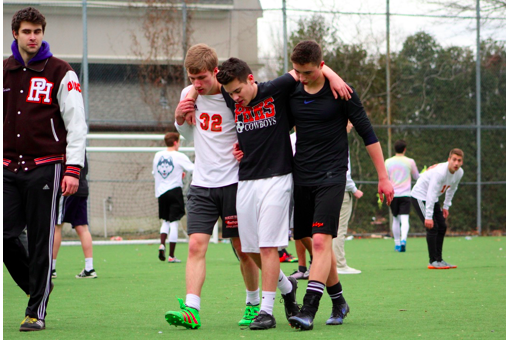 Coach Abilio Cerdera with Thomas Varano and Ryan Dicaprio assisting Jake Goldsmith off the field
When asked about their loss, Jack Torre said, "you know what, it happens".
Torre's teammate Josh Cooper included, "it was a good time."
The Class of 2019's Derby tradition is planned to be carried throughout the years; including during breaks while in college, and continuing the tradition onto the second generation for high school reunions. Although Derby is a game of rivalry, the annual event brings the juniors of Montvale and Woodcliff Lake together, forming a bond between the players and fans will never break.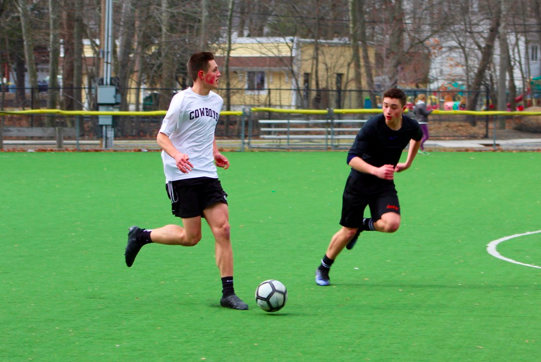 Montvale MVP: Luke Asherbrand
Woodcliff Lake MVP: Ryan Dicaprio