Hills Business Profile: MMMunchies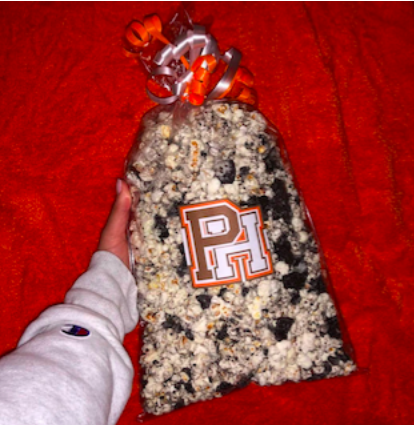 Running a business, no matter how big or small, all starts with an idea. It starts with one moment where one person decides that something they have to offer is worth sharing with the public. It doesn't matter what that idea is, as long as it is something that people deem worthy of spending their money on. Without people willing to pay, there is no product, therefore there is no business.
Incoming Hills senior Melanie Meisner took an idea and a passion, and turned it into a business that she loves. What started as just a standard food account on Instagram, with Melanie posting pictures ranging from home made meals to trendy foods found out in the world, Melanie has created a business where she sells special flavored popcorn. Melanie commented on the rise of her company by saying, "I started MMMunchies originally as a food Instagram account last August. Around last December, a few of my upperclassmen friends had committed to college and to celebrate, invited me to their "bed decorations." After years of making flavored popcorn for personal snacks, I thought adjusting it to become custom college colors would be the perfect gift, and later on could turn into a real business. After spreading through social media, MMMunchies has expanded from a small local company, to being recognized and shipped nationally." Melanie took a passion and hobby of hers and turned it into something that people all over can enjoy.
People now know MMMunchies as a recognizable brand around Pascack Hills. Everyone has seen pictures of the delicious popcorn on social media, and most have tried it at some point. Rising Senior Skylar Bachman raves about the popcorn Melanie creates. She goes on to say, "Melanie has always been my friend and when I first saw that she was making this popcorn, I wasn't really quite sure what it was all about. But then a few of my friends bought a few bags and I tried it and instantly loved it. Now I am always up to date with all the flavors and am so excited whenever Melanie brings over samples to try." Skylar shares the same opinion as many students, not just at Pascack Hills, but all over the county and beyond.
When Melanie first started this company, she did not have any intentions on it becoming a hit like it is today. It was meant to be just something she liked to do, now it is a full brand that has reached all sorts of accomplishments. Melanie commented on the rise of MMMunchies and what it means to her, "When I first started MMMunchies, I doubted friends and family when they told me MMMunchies would be huge one day. I thought I would make a few buckets and bags for college commitments and birthdays, and that would be the end of it. Since December, I've worked two trunk shows at Indian Hills High School and a charity event for Kula for Karma. MMMunchies has been used for multiple fundraisers, sent through the mail as care packages, all celebrations, and lots of snacking!" No one expected popcorn to be such a difference maker in Melanie's life, but it seems to be so, as she is now known for her popcorn.
If you want to buy popcorn, the list of flavors include: CinnaSuga, S'mores, Bagel Shop, Rainbow, Spicy Crab, Black and White, College Corn, Scout's Honor, & Cookies n' Creme
Melanie says the fan favorite is Cookies and Crème, while all other flavors are just as tasty and perfect for any event.