The local and national response to anti-Asian violence
The violence has continued into 2021, and President Joe Biden signed an executive order denouncing anti-Asian discrimination in January. "The federal government must recognize that it has played a role in furthering these xenophobic sentiments through the actions of political leaders, including references to the Covid-19 pandemic by the geographic location of its origin," Biden said in his order. 
Many attribute the rise in violence with the rhetoric of former President Donald Trump as he repeatedly referred to Covid-19 as "the China virus," blaming the Asian community for the spread of the coronavirus. 
Even before the pandemic, Asian Americans faced discrimination and hate crimes in the U.S. In 1882, the Chinese Exclusion Act banned Chinese immigrants from entering the country. This was the only federal legislation to suspend immigration from a specific nationality. 
During World War II, the federal government imprisoned about 120,000 Japanese American citizens in internment camps solely because of their race. These camps were patrolled by armed guards who had instructions to shoot anyone who tried to escape.
Today, Asian American leaders are urging their community to report any incidents, despite personal embarrassment or lack of details. They are calling for greater enforcement of existing hate-crime laws, better communication with local police departments that are investigating hateful incidents, and other Americans to consider their actions and words towards them. 
Asian American journalists are also sharing their own stories of discrimination on social media, while Asian celebrities such as Sandra Oh, Lana Condor, Jeremy Lin, Daniel Dae Kim, and more are using their platforms to advocate against anti-Asian racism.  
This advocacy has only increased in recent weeks. On March 16, eight people, including six women of Asian ancestry, were killed at three massage parlors in the Atlanta area. Since then, 21-year-old Robert Aaron Long has been arrested and charged with eight counts of murder.
The attack led to renewed discussions about systemic anti-Asian racism, as well as marches and rallies around the world. Although the suspect reportedly told police that race was not the motive, this shooting has made people more aware of other anti-Asian crimes that were committed in the past. 
Dr. Russell Jeung, co-founder of Stop AAPI Hate, emphasized that community efforts and solidarity are the only ways to curb racist attacks, noting that the organization "had hundreds of accounts to go to the state legislature and say, 'This is happening. We need to get it documented. We need to proactively address these trends.' And since the government didn't have the capacity in California, we started our own website as a reporting center, and it just launched last week and we've been getting over 100 reports every day."
The Pascack Hills community is not far from places where there has been Anti-Asian recently. In June 2020, a Chinese restaurant in Wyckoff was spray-painted with "coronavirus" and "Covid-19" on the windows. The act has been labeled a bias crime.
Incidents involving Asian or Pacific Islander individuals in New Jersey increased 82% over the past year, from 39 in 2019 to 71 in 2020, according to data compiled by state police. Recently, New Jersey announced that it will expand reporting on hate crimes in wake of anti-Asian attacks and a rise in bias incidents. 
Leave a Comment
More from the contributor(s):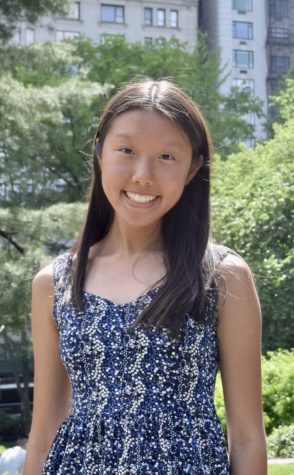 Olivia Ge, Sports Editor / Assistant School News Editor
Hills junior Olivia Ge is looking forward to being a part of the Trailblazer for another year. She joined the publication her freshman year as a staff member and has written for In-Depth, School News, and Sports. This year, Ge is excited to be a Sports Editor and Assistant School News Editor for the publication, covering events and BOE meetings.

Fun fact: Out of the different food categories, Ge's favorite is fruit, with the exception of bananas and pineapples.