City with a side of green: University of Pittsburgh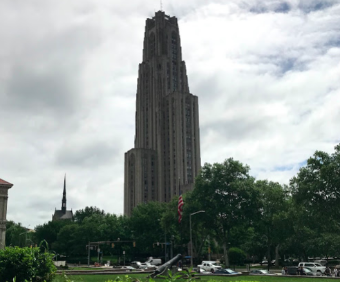 Located in the heart of the Oakland neighborhood is the University of Pittsburgh- a home to 20,000 undergraduate students united by their school pride.
The University has a total of 7 campuses, but the largest and most popular is in Pittsburgh itself. This 145-acre campus offers over 100 undergraduate majors in a total of 10 schools, so it gives its students many options.
The heart of campus is the Cathedral of Learning (which most students refer to as "Cathy"): a 42 story tower that is home to many study spots, Nationality Rooms, and classrooms.
For students interested in Greek life, Pitt has a total of 22 fraternities and 13 sororities. Along with Greek life, the school has 400+ student clubs and organizations. While there are many ways to get involved on campus, perhaps one of the biggest school events is the many sporting events.
Panther football games take place in Pittsburgh's Heinz Field where all students go across town to show their Pitt pride. Basketball games are another event attended by students and here the student section is known as the Oakland Zoo.
Being in the city provides a perfect location for students to find internships and jobs. For healthcare students, the university even has a University of Pittsburgh Medical Center that includes a total of over 35 hospitals in the Pittsburgh area.
While the school is located in a big city, there are many places students can go and get a break from the hustle. A less than 5 minute walk from the Cathedral of Learning is Schenley Park. This 456 acre park includes a botanical garden, hiking trails, and many events throughout the year.
From the many opportunities and amazing location, it's easy to see why so many students decide to "Hail to Pitt!"