Pascack Hills Yearbook: student-run and student-designed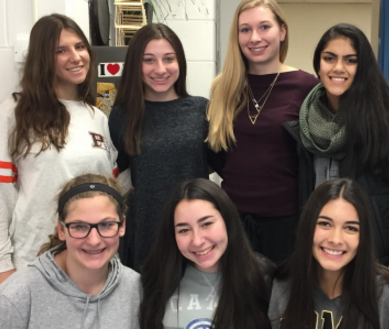 The predominantly student-run yearbook is completed by a tight deadline, thanks to a hard-working staff. Yearbook is produced and designed by the students, along with the help of Special Services teacher, Allison Schultz. The yearbook is planned out far in advance, as students design the next year's book cover during the end of their junior year. Staff members are able to meet with a graphic designer to discuss the colors, fonts, and overall design.
This year's editors-in-chief are seniors Sweta Mahapatra and Caroline Goertz.
Editor-in-Chief Sweta Mahapatra says she really enjoyed this experience because she likes seeing, "the book coming together right in front of you."
The staff has meetings, separate from the Editors-in-Chiefs, to discuss their pages and progress. While everyone on the yearbook staff always helps wherever needed, there are three main jobs: Editors, photographers, and general staff members. Editors are responsible for reviewing the pages and fixing them. The photographers take needed pictures; this year, however, most photos are professionally taken. Staff members are also responsible for writing captions specific to their designed page. The final design is due during the second week of April, to ensure enough time for it to be distributed to students.
New aspects brought this year
While the design of this year's yearbook is kept a surprise, Mahapatra says, "It's going to be the best one yet." Schultz agrees with Mahapatra, and says that this year's book will be even better than past years. She believes it's success will especially be because they are using professional photos. New this year, the photos will be from JAS Photo- a Hills' parent's photography company. Schultz thinks "the book will be even better, just because of the way the pictures are being documented."
Also new this year, a page for junior prom will be added. Junior Olivia Uribe
April deadline quickly approaching
With the April deadline right around the corner, all staff members are hard at work. Schultz says right now the staff is finishing up pages for winter sports and the musical. The staff will soon finish up the spring sports. Because of the early deadline, anything after April will not be in the yearbook. Staff members have been working hard to finish pages and stay on top of their work.
So far, sophomore Sammy Meyerson has worked on the girls' soccer and dance team pages. She says her work is "going great so far and [she is] meeting all of the deadlines for submitting pages." First-year staff member, junior Nicole Khanutin, says she has had "a lot of fun interviewing other students in [her] grade and getting to see how the yearbook is actually made."