Hills band, choir performs at winter concert
Students and teachers reflected on their performance this year and compared it to last year's concert.
On Dec. 15, Pascack Hills had their winter concert, which was hosted by the school's music department. Students in band and choir performed for the community, and some of the faculty performed in the faculty choir. 
Margarita Elkin has been the choir instructor at Hills for 11 years. She directs three student choirs–Chamber, A Cappella, and Concert–as well as the faculty choir. 
Riley Haworth and Ariel Sharon are Hills two juniors that sang in the concert this year. They also were recently accepted to the Bergen County Chorus. Their favorite song that they performed is "Mary Did You Know?" 
"I loved hearing all of the layers of parts come together during the rehearsals and performances," Haworth said. 
Sharon had a duet in the song with another junior, Declan Cleary.
"It was really fun to have a duet with [him]," he said. 
Elkin said that she enjoyed the Chamber Choir's performance of "Silent Night."
"The choir worked very hard on bringing tender contemporary a cappella harmonies surrounding the beloved melody of the traditional carol in this arrangement to life," she said.
Members of the band commented on their favorite songs that they performed.
Daniel and Robyn Song, Hills senior and freshman, are siblings. They play the violin, and had a duet in the concert. Their favorite song that they performed was "Christmas Declaration." 
They also discussed their duet, which they noted was their favorite part of the concert.
"It was a new experience because we have never played a duet in front of anyone. We felt very proud after we were done performing," they said.
Junior Christine Audia said that her favorite song is "definitely 'A Hanukkah Festival.'" 
Grace Zak, Hills junior, mentioned another song as her favorite.
"My favorite song to play in the concert was definitely 'Caderna.' I like how it was upbeat and fun to play, and it added a unique element to the concert," she said. 
Sharon, who is also in band, stated that his favorite is the "Hallelujah" chorus,"I loved playing the timpani along with the choir. I saw Mr. Dore singing along as he was conducting us, so I started singing along while playing as well!"
Annually, the "Hallelujah" chorus is played by the band and sung by all choirs at the end of every winter concert This year, some of Hills's alumni sang with current students and teachers, too. Mary Scorese, a biology and forensics teacher at Hills, said that it was one of her favorite songs to sing in the faculty choir.
"It is an exhilarating feeling to be part of such a beautiful choral piece," she said.
Another song that Scorese enjoyed performing is "Christmas Valentine." Within the song, Vani Apanosian and Jay Uhl had a duet. Apanosian teaches English and Uhl teaches math and computer science at Hills. 
Both faculty and students reflected on this year's concert, and compared it to last year's, which was held over Zoom due to the Covid-19 pandemic. 
"[It was] special and emotional since we had a live performance with a very supportive audience! I do not think we'll ever take it for granted anymore. Yes, the singers were wearing masks, but it is still so much better than having a virtual concert," Elkin said.
Haworth added, "It felt so great to be able to perform live and in the auditorium for our winter concert! Being a junior, I've only had one 'normal' concert in my high school experience, so performing live in the choir felt like a new experience for me all over again!"
"This year's concert felt more meaningful to me because not having a winter concert since freshman year reminded me of how much I miss performing as a band. It was also very fun to listen to everyone else who performed," Zak said. 
Elkin gave her final thoughts on this year's concert after not having one last year.
"This is what making music together is all about," she said.
Leave a Comment
More from the contributor(s):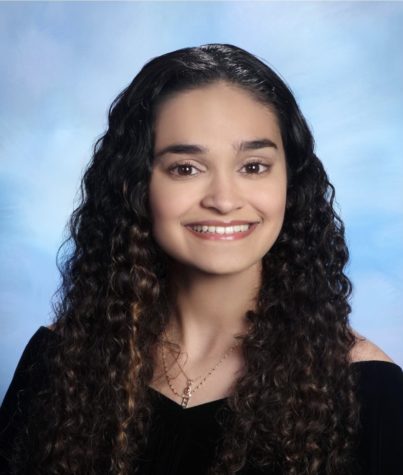 Briana Keenan, Editor-in-Chief
Briana Keenan is a senior at Hills. She joined the Trailblazer her freshman year as a staff writer and edited for the In-Depth and School News sections her sophomore and junior years, respectively. This year, Keenan is looking forward to being the publication's Editor-in-Chief and continuing to write, edit, and manage stories for the Hills community.

Fun fact: Over the summer, Keenan went to the School of the New York Times for two weeks.