Beyond the Books: Getting to Know Librarian Dee Goldman
Walking in to the Pascack Hills library, you are always greeted by a smile from librarian Dee Goldman. But beyond the books, Mrs. Goldman lives an exciting life of pop culture, puzzles, and of course, her constant Hills Pride.
Born in Long Island, Goldman's family moved many times because of her father's work with the Apollo program. At a young age, she lived in Daytona Beach, Florida. After the mission was complete, her family moved outside of Washington, D.C. She then majored in English and Education at a New Jersey college, leading her to meet her husband and stay in the state after finishing her degree.
Mrs. Goldman began her Hills career as a substitute teacher in 1991. In 1996, she was hired and began her permanent career as a Pascack Hills librarian.
"I love the contact with people and talking about books," said Goldman when asked why she enjoys being a librarian. She decided to take this route after realizing she would not want to work in something such as the book editing field where she would be alone in a cubicle all day; she feels that a cubicle job wouldn't allow her to be sociable and personable during her workday, so she is very happy with her choice in career path.
As a librarian, Goldman of course loves to read. Her favorite book is "The Nightingale" by Kristin Hannah. She continued to describe how her job has allowed her to re-read books and enjoy them in an entirely new way after discussing with students or staff members.
Having her own two children go through Pascack Hills, she feels proud of the impact the school has on its students on a personal level.
"You never see graffiti, you never see garbage on the floor here, people respect this high school…I think here we prepare our students very well for college and I'm very proud of that fact," described Goldman from her own personal experiences.
Along with the Hills Pride, her favorite part about the school is the students and staff.
Fellow Hills teacher and friend, Mrs. Listro, says, "Mrs. Goldman runs command central. She has her finger on the pulse of everything going on a Pascack Hills. If you ever need to know anything- she is your go-to girl!"
Goldman's Hills Pride is shown in more than her work as a librarian- she was the Varsity Cheerleading Coach for 19 years.
"I wanted to do something with the school to be part of the Hills Pride, and it was cheer!," said Goldman when asked how her coaching career began.
"It was a perfect fit because I never had to worry about winning or losing a game, I just had to make sure my girls learned their routines, and over the years it got more technical with stunting and choreographing," continued Goldman.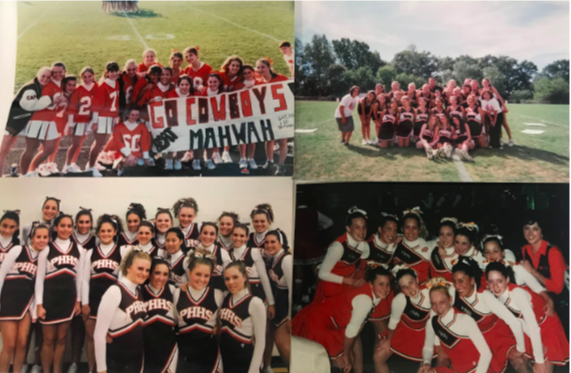 Photos of some cheer squads Goldman has coached over the years.
Photo Credit: Dee Goldman
Outside of school, Goldman loves all things pop culture, design, fashion, and exercise. She enjoys shopping for new outfits and trying new restaurants. Her most recent restaurant visit was to Cafe Matisse in Rutherford. Pop culture-wise, her all-time favorite movie is Pretty Woman.
Another one of her hobbies is puzzles; She currently makes ones with 300 pieces and is excited to work her way up to those with even more pieces.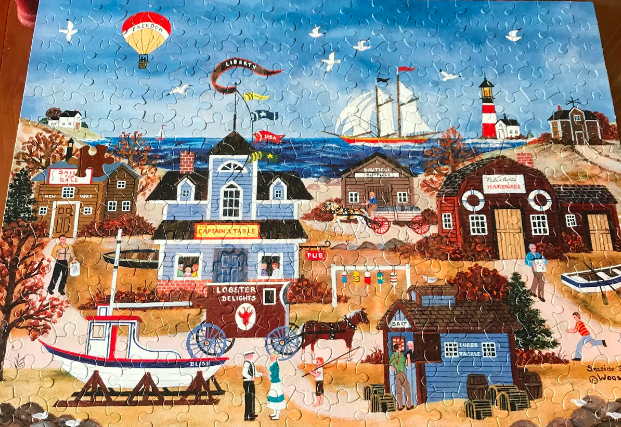 One of Goldman's latest puzzles.
Photo by Dee Goldman
While to most students, Dee Goldman may just be the librarian here at Hills, she lives a truly interesting life of puzzles, pop culture, Hills Pride, and constantly growing hobbies. So next time you stop by the library, be sure to talk about your favorite novel or movie and you will quickly learn there is so much more to know about Mrs. Goldman, beyond the books.