Interact Thanksgiving food drive concludes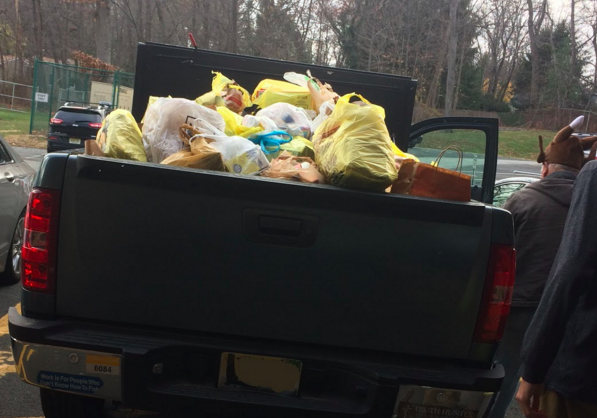 During all seasons, you will see the involvement of the Interact Club at Pascack Hills. Their dedication to making a difference in both the community, as well as around the world, shows what Hills students are all about. During the Thanksgiving season, Interact holds a food drive in which this year's was a success, once again.
The food is donated to Helping Hands food pantry in Hillsdale. Although Interact does not have an official number, the club advisor, Shereen Bloom, said that there was enough food to fill the flatbed of a pickup truck (pictured below).
Bloom said that although this year's drive was successful, the club has collected more in the past. She believes that one reason for this decrease is because "…the Board recently passed something where you can't offer extra credit for [things like bringing in donations]…anymore." She said that she thinks this makes the students no longer have an incentive to bring in donations.
Sophomore Vedika Jha agrees with this. She says, "Even though it is the right thing to do, I think the motivation of extra credit behind donating food is what mainly drives myself and other students to want to donate."
When asked about her favorite part of the food drive, Bloom said, "Probably when [the people from Helping Hands food pantry] come to collect the food. Whatever class I have that period, we go downstairs and they help load up the truck… [and] I see the sense of pride in them at that moment."
"My favorite part about the Thanksgiving food drive every year is knowing that we are making a difference in the lives of people in need., "said Interact member Jennifer Ryan."It is amazing to watch the school and community come together for such a great cause."
Senior Nicole Mofrad donated approximately 10 pounds of food to the drive through the robotics team. She said, "I have food to put on my table this holiday, but some people don't have any. The food drive is a great opportunity for me to give back to my community."
Interact's next event will be Stop Hunger Now, so make sure you stay informed and can be involved!