College Crazed Cowboys
Pennsylvania State University: 16 Hills students
University of Delaware: 10 Hills students
University of Rhode Island: 9 Hills students
University of Colorado Boulder: 8 Hills students
University of Michigan: 5 Hills students
From the Class of 2017 alone, it's impossible to deny that the majority of Hills students desire to attend the "popular schools." What are these "popular schools" you ask? They are schools that everyone instantly recognizes. They are schools with parties every day of the week (of course because parties make cool Snapchat stories). They are schools where you can post a cute Instagram commitment picture (because then everyone can comment "Congrats"). They are schools that students at Pascack Hills consider to be the best.
College is a time for students to express themselves- and that is something everyone does in different ways. While for some students this might mean going to a Big 10 school, but for others, it might mean going to a school with only 2,000 students and having the time of your life in your own way. Hills students seem to have a misconception that if you don't go to a big school outside of New Jersey, you won't have a great college experience.
Junior Alex Truszkowska said, "People go to the same popular schools because it's something familiar to them because so many previous students applied or go there. Plus these top schools are usually ranked high in the partying category or in a sport. Everyone wants to go to a D1 college so they bank off of it, and even I'm guilty of it."
Due to the extent of Hills students going to the same group of colleges, underclassmen are often skewed to think that these schools are the only acceptable and cool ones to attend. When searching for colleges, these underclassmen may now feel pressured to only look at large, popular schools because at Hills these schools are the norm.
Senior Ella Hofstetter said, "I don't think it causes freshman to only look at these schools, but since they are so big and popular it is so easy to fall in love with the communities and the overall atmosphere of the school. I feel like there is some pressure when applying to schools and there are such high standards that some people won't even go to a school that is perfect for their major, just because no one has ever heard of it. My advice to everyone applying to college is to just follow your heart and when you find the right school you will know it."
Social media definitely plays a part when it comes to the pressure behind attending this popular schools. When an underclassman sees past graduates looking like they are having an incredible time at their school, it might make them want to attend a similar school simply because of seeing these social media posts.
Sophomore Sofia Papadopoulos says, "Ever since kids from my old school started graduating high school I was able to see how they all were getting into the same three schools: Duke, Elon, and UPenn. Once I got to Hills, everyone was shooting for Ivy Leagues, South Carolina, Syracuse, Tennessee, Tulane, etc. I would have never thought of most of our big dream colleges until seeing everyone's commitment or acceptance posts to these schools, and it did skew my thinking toward college. Now when I see my grades, I see what college I can post my acceptance letters from or how popular of a college I'm going to get into."
Overall, it's important for those looking at colleges, especially Hills students, to remember that students need to select a school that is perfect for them, not the one that everyone else is getting into.
Leave a Comment
More from the contributor(s):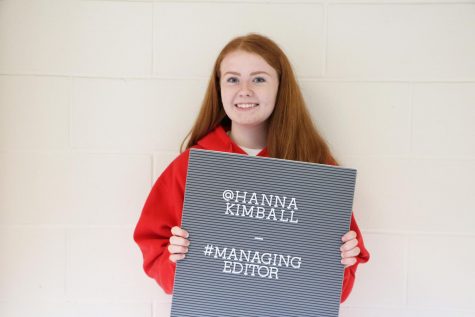 Hanna Kimball, Managing Editor
Hanna is a senior, and this is her fourth and final year working for The Trailblazer. An editor-in-chief last year, Hanna has worked through the ranks to become Managing Editor, and has taught a few on her way up. Although she's sad to see it go, she's ready to work hard this year.