Empowering Women from California to New Jersey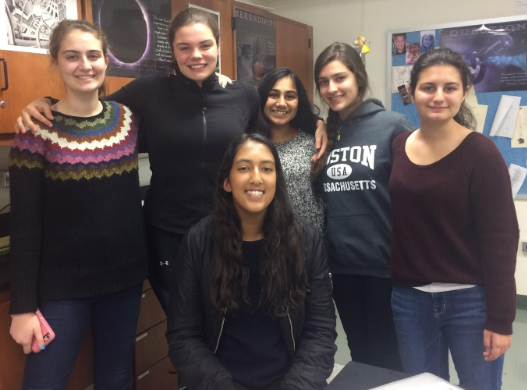 18 million women were living in poverty in the United States alone according to the 2014 census. Thanks to junior Izza Khan, Hills students now can make a difference.
Khan moved to Montvale from Santa Barbara, California this past summer and with her she brought the club Together to Empower. This club exists back at her old school and has around 40 members who hope "to empower women and women minorities in underdeveloped countries."
Khan is very passionate about the club and wanted to bring it to Hills because "it's a great cause and a very realistic and prominent issue in our world today and in our local societies."
One of the Vice Presidents of the club and junior, Erin Buquicchio, said she's a part of the club "because [she] wants to give young girls the same opportunities that we have."
The club advisor is physics teacher Elise Burns. When asked why she decided to advise this club she said, "Growing up, I had parents who were available and interested in my welfare, a roof over my head, food to eat, clean and accessible water, education, and health for myself and my loved ones. As an adult, I have had all of that, plus been able to support my own family while enjoying a job that I love. This has not blinded me to the fact that there are plenty of others, locally and globally, who do not have security in one or more of those things. I am happy to encourage, guide, and lend my support to a group that looks to help others, especially women looking to improve their situations."
One way the club hopes to give young girls these opportunities is by partnering with Bead to Life. This organization partners with clubs to sell jewelry made by Ugandan women. The money made by selling this jewelry then goes back to the women to support them through business school.
Khan encourages all students to join Together to Empower, "because they would be a part of a great cause and be changing women's lives all over the world." If you are interested in joining reach out to Khan through her email, [email protected].