No Seats, No Problem!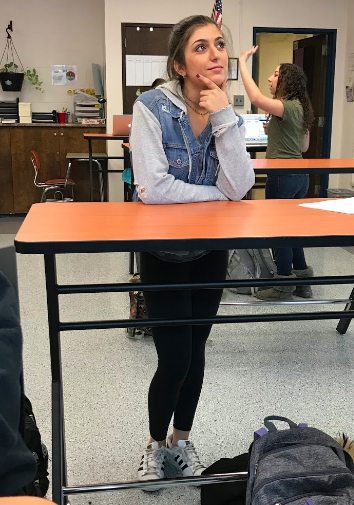 Spanish students in Room 234 were caught by surprise when they walked into class on Tuesday to find a room without their typical desks. Now, the class will consist of standing for the non-block days and a mixture of standing and sitting on couches in the room during block periods. When students are working on group projects or doing individual work, they can choose whether they want to stand or sit.
Studies conducted by the Annals of Internal Medicine published in September declared that there is a direct relationship between the amount of time you spend sitting and early death. The average student sits for about 3.5 hours every single day when they are at school. So, with tools like these new standing desks, teachers and administration hope to increase the health of their students.
Spanish teacher Patricia Sularz says, "I have been waiting for these desks for more than two years. When presented with the opportunity of getting new furniture for the classroom, I knew right away I wanted standing desks for my students. For a few months, I researched about the health benefits of standing desks. According to health experts, standing desks can improve your blood sugar, lower cholesterol levels, help with concentration, boost productivity and lessen the risk of chronic disease."
She continued with sharing,"I looked through numerous catalogues until I found 'our new and gorgeous standing desks' that were perfect for our Hills' students. I know it is a sudden change but I am confident students will soon see and feel the benefits of these desks."
Similar to Sularz, junior Rachel Kuri supports the new classroom layout and says, "I feel like the new standing desks are a fun change that encourage us to engage in class more than we usually would, and they keep energies high."
On the other hand, senior Stellie Leibowitz is not a fan of the new setup and says, "It's very hard to focus and relax at these new desks."
Some students might think they need to take a stand against this new classroom style, but for others, no seats are no problem.