2018's Tri-M Success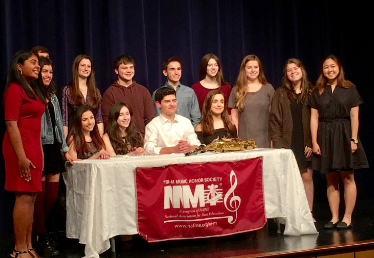 On Tuesday night, Pascack Hills inducted 15 new and recurring members into the Tri-M Music Honor Society.
The Tri-M Music Honor Society "opens up a world of opportunities for students who have already shown themselves to be academically capable and musically gifted. Through performance and community service, they'll develop confidence, creativity, critical thinking, compassion, and a host of other leadership skills sure to serve them well in school and beyond."
Students must apply to be inducted. They have to be enrolled in a band or choir class at Pascack Hills as well as be involved in a music program outside of school. They then have to write an essay and biography to submit as well.
To begin the night, Principal Glenn DeMarrais introduced the program, before a rendition of the Star Spangled Banner quickly followed. As part of their induction, students were asked to go on stage to receive their certificate and repeat a pledge to finalize the process.
Choir inductees performed a piece of their choice, ranging from classical foreign songs (Italian, French, Russian) to modern Broadway music. The band inductees played a song of their choice as well; their instruments included the clarinet to the trombone, the flute to the saxophone.  
This program is held in high regard to the Music directors of Pascack Hills. Choir Director Margarita Elkin says, "A member of the Tri-M Music Honor Society is carefully selected on the basis of scholarship, character, leadership, and service. He or she sets a good example, is always willing to assist those students who are striving to better themselves in the music department, and always remembers that real honor brings responsibility"
A night filled with music and applause, it is not only an important night for the teachers who organized the program, but it is valued by students as well.
Senior Gianna Lucido who was inducted into the Society as a recurring member states, "It's an honor to be formally recognized for the amount of love and work that goes into such an amazing art form."
More from the contributor(s):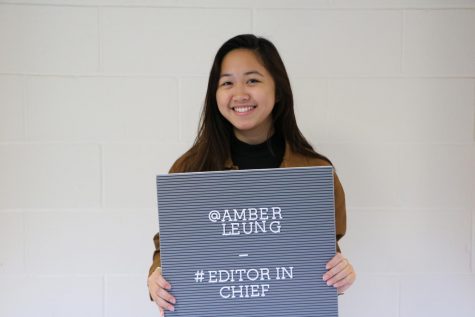 Amber Leung, Editor in Chief
Editor-In-Chief Amber is a senior and is working on her final year on The Trailblazer. She's ready to work with, train, and mentor underclassmen to one day take her job! Although she is sad to see it go, she's excited for the rest of the 2018-2019 season and making it the best yet.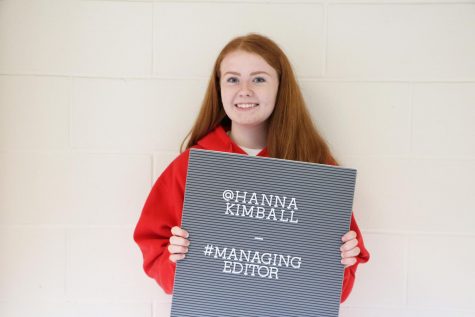 Hanna Kimball, Managing Editor
Hanna is a senior, and this is her fourth and final year working for The Trailblazer. An editor-in-chief last year, Hanna has worked through the ranks to become Managing Editor, and has taught a few on her way up. Although she's sad to see it go, she's ready to work hard this year.