Pascack Hills 2018 Talent Night Recap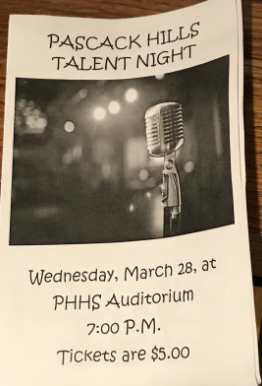 Cowboys took to the stage on Wednesday March 28 to share their many talents. Emceed by Senior, Grace Liriano and Junior, Frank Scott and ran by choir director Margarita Elkin, the 2018 Talent Night was one to remember.
Chamber Choir opened the show with a fun, medley song titled "Four Chords."
Junior Julia Schwartz never ceases to amaze the audience and this year certainly didn't disappoint. Julia sang "Breakeven" by The Script and played the piano as well.
Taking a break from the singing, freshman Avelina Cerdeira read an original and beautiful poem titled "There and Back Again."
Freshman Yemie Woo wowed the audience as well with her performance of "Stone Cold" by Demi Lovato.
Carnig Shakarjian was the only dance act of the night and it was something you certainly did not want to miss! Carnig not only did amazing dancing, but it included incredible gymnastic skills.
The first duet of the night was sung by seniors Devon Margulies and Christina Gralow; they performed the classic hit "Otherside" by Red Hot Chili Peppers.
Junior Tvene Baronian followed with her stunning performance of "Missed" by Ella Henderson.
Senior Gianna Lucido performed the first show-stopping Musical Theatre song of the night: "She Used to be Mine" from Waitress.
Senior Grace Liriano, who you may recognize as Mimi from this year's spring musical, Rent, took a break from the theater stage to amaze the crowd with her ukulele playing and singing of "Over the Rainbow" by Israel Kamakawiwo'ole.
Jessica Strassberg brought in the Disney aspect to the night with her wonderful performance of "Go the Distance" from Hercules.
Only released on March 16, the song "Found/Tonight" has already become a quick hit in the Musical Theater community. Senior Grady Johnson and sophomore Alex Moss combined their talents and love for theater in their amazing duet of "Found/Tonight."
PH A Cappella performed "Waiting On the World to Change" by John Mayer to close off Act I.
Act II was opened by another Broadway-hit sung by Julia Schwartz and Gianna Lucido, this time "Requiem" from the show Dear Evan Hansen.
Senior Vinny Lambert was the only student to perform an original song, singing and playing guitar to his song, "I Like You."
Junior Julia Feder followed this song with her stunning performance of the song "If I Ain't Got You" by Alicia Keys.
Taking a break from all of this singing, senior Jacky Cheng's magic tricks were once again incredible. As he is a senior, it is sad to see him and his spectacular tricks go!
Throwing it back to the 2012 classic, junior John Giardina performed "When I Was Your Man" by Bruno Mars.
Emcee Frank Scott took a break from introducing and told the famous story, "The Cremation of Sam McGee."
Junior, Sarah Winston delivered a perfect performance of "Writing's On The Wall" by Sam Smith.
Elisa Falange and Yemie Woo, or you may better know the duo as Bonnie and Blanche from this year's production of Bonnie & Clyde, combined forces for an exciting mashup of "Thinking Out Loud" by Ed Sheeran and "Not the Only One" by Sam Smith.
Another duo was made of up seniors Grady Johnson (singing) and Jake Saks (guitar). They performed "Landslide" by Stevie Nicks.
Showing off their jazz band skills, juniors Jarrett Bierman (drums), Bennett Bierman (piano), Liam Landau (trumpet 1), and Thomas Varano (trumpet 2), played "Mercy, Mercy, Mercy."
To close the show, the cast of Rent came together one last time for the beautiful performance of the class "Seasons of Love," featuring Elisa Falanga and Heather Fusco.
The 2018 Talent Night was filled with exciting music, incredible dancing, and mind-blowing magic tricks; It truly was a fantastic night to remember!
Elkin says, "I truly enjoy having it every year, because Hills has a lot of talented kids who are willing to share their gifts. Every year the students surprise me with their creativity, and every year there are some amazing discoveries made such as unusual acts, magic tricks, cool dance routines, vocal duets, big and small group performances,  etc. The tradition is very strong and I hope it stays this way!"