Early Snow: The Storm, the Panic, and the Aftermath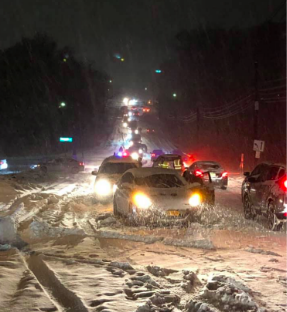 The Pascack Hills community was left in abject shock by the freak snowstorm that swept through Bergen County yesterday afternoon. While it seemed to be known that snow was on its way, it is safe to say nobody expected how quickly and how much of it would have come. The aftermath left copious accidents, horror stories of drives home, and many teachers having to either call out or arrive to school late post-storm.
"It took my Uncle 8 hours to get from the City to Montvale," said Freshman George Geanopulous.
His uncle wasn't alone in his struggle. Hundreds of commuters were stranded in grid-lock traffic on their journey home, many being the parents of Pascack Hills students. Some students had trouble even getting to their homes from Hills.
"I literally couldn't go home. I had to stay at a friends house because Grand was basically closed," Said Freshman Hilary Siegel.
Siegel wasn't the only student who had issues getting home. Senior Natalia Miniatis had difficulty in the snow saying, "My car wouldn't go up a hill so I had to have my brother get out of the car and make sure nobody else was coming so that i could back up and try to go a different way. It was a pretty terrifying moment and I got home much later than I normally would." The stress is also palpable with Senior Melanie Meisner stating, "I've cried twice today already."
However, not all students experienced stress or difficulty on their rides home. How did Nate Barcus fair in the snow? He says, "It only took me like seven minutes to get home."
The Pascack Valley Regional School District is fortunate to have dedicated staff in times like these. The outstanding custodial staff was recognized by Superintendent Mr. Erik Gundersen and Principal Mr. Glenn DeMarrais. The towns are also lucky to have dedicated police and ambulance corps during such difficult times.
A big thank you to our custodial staff throughout the night to clear our lots and walkways! Thank You!

— P. Erik Gundersen (@egunder) November 16, 2018
Great effort last night and today by our custodial staff to get Hills ready! Thank You!! https://t.co/z6Q1nd3pPH

— G. deMarrais (@PHHS_PRINCIPAL) November 16, 2018
With the first winter storm coming so early in the school year, one can only wonder how many snow days we will have in the coming months. Time will only tell if big snow storms will continue and if Hills will have to resort to using virtual days this Spring.