Fishbein updates public on district Covid-19 policies
On Friday, he sent an email to the district specifically about quarantine protocols for schools in the state.
Interim superintendent Daniel Fishbein gave updates on the district's Covid-19 policies at the Pascack Valley Regional High School District Board of Education meeting on Monday night. 
"It seems we're leveling off…I'm nervous to say that since it seems like [cases] are spiking again," Fishbein said. 
On Friday, he sent an email to the district specifically about quarantine protocols for schools in the state. The New Jersey Department of Health shortened the quarantine period from ten days to five, but it should be at least ten if the individual still has symptoms.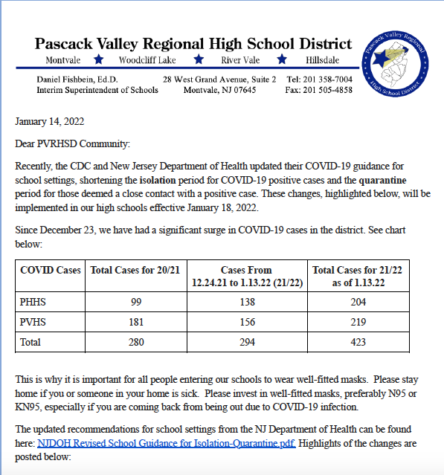 "As you can see in the data, we've had a lot of Covid-19 cases in the district, especially from Dec. 24 to present-day," he said.
Other requirements for individuals that are coming back from quarantining are social distancing and wearing a mask. Everyone must wear a mask at both schools unless actively eating or drinking, but those actively participating in an athletic game for the school may have it off if they did not just have to quarantine. 
"If [students coming back from quarantine] cannot participate in athletics with a mask on, they can be with the team, but cannot be part of the action," Fishbein added. 
Former BOE president Tammy Molinelli asked if there have been enough staff members and transportation for the district amid the pandemic. 
"Staffing is a challenge, but one thing we did is that you can teach from home," Fishbein said. 
Teachers are able to use Google Meet to teach if they are quarantining.
The BOE also approved a hire for a new substitute teacher for the district, which BOE member Kristin Martin commented on.
"Happy we're getting new subs," she said. 
Fishbein also said that there has been "a national shortage in buses," but the district has been able to have drivers ready for students. The United States Department of Education released this statement on Jan. 4 about the shortage of bus drivers. 
"There have been around two extenuating circumstances with bus drivers being sick and no substitute, but we have been able to get replacements in time," he said.  
Montvale resident Carolee Adams asked about access to rapid tests for Covid-19, specifically if the government could give a supply to the district to "make it easier on parents" who are looking for them. 
"We haven't received any tests from the federal government," Fishbein said. He added that a negative Covid-19 test is not required for a student to come back to school if they quarantined for the required five to ten days. 
"We're not alone with this phenomenon…you see it in newspapers [and] in the news nationally," he said.
Leave a Comment
More from the contributor(s):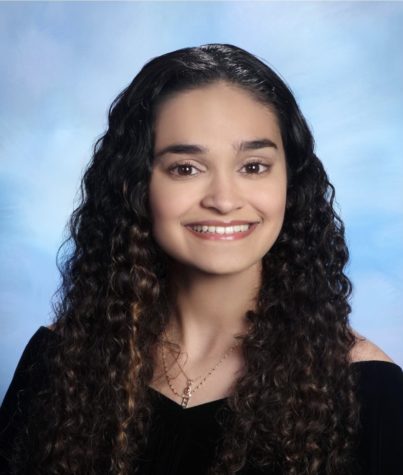 Briana Keenan, Editor-in-Chief
Briana Keenan is a senior at Hills. She joined the Trailblazer her freshman year as a staff writer and edited for the In-Depth and School News sections her sophomore and junior years, respectively. This year, Keenan is looking forward to being the publication's Editor-in-Chief and continuing to write, edit, and manage stories for the Hills community.

Fun fact: Over the summer, Keenan went to the School of the New York Times for two weeks.