Lacrosse team trains at Disney World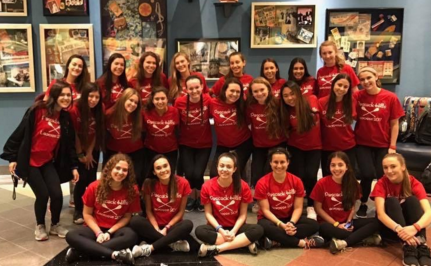 Disney World is not your average training location for a high school team, but for sophomore, junior, and senior girls of the Pascack Hills' lacrosse team, this trip was a once in a lifetime experience filled with bonding and practice.
@PHHS_PRINCIPAL @PHathletics such an awesome experience – great group of girls, great lacrosse, great time #teambonding pic.twitter.com/lMdXdm0OnA

— Lindsey Jachens (@lindsey_jachens) March 19, 2017

From March 15-19, two coaches and 24 players travelled to ESPN's Wide World of Sports for training. Coach Lindsey Jachens says the trip "will help the team be successful this year because bonding off the field often correlates to a 'team first' mentality."
The Cowgirls faced some tough competition when practicing in Florida. Sophomore Molly Balsamides says this tough competition really helped the defense improve.
Jachens agrees and said, "It is helpful to play against other teams to figure out our strengths and weaknesses, and what we still need to get better at."
Coach Scott Ernest continued by saying, "Our improvement became evident when we came back and scrimmaged Holy Angels who had beaten us every time over the years and we did extremely well against them."
While the team constantly worked hard, they made sure to leave room for some fun.
Junior Maddy Gold's favorite memory was when the team went on Tower of Terror. She said, "When we got off the ride, everyone was laughing and joking about who was scared. We walked over to the pictures of us screaming and just all started to laugh. I realized then, that with a team effort, we can conquer anything."
Along with the rest of the team, Gold reflected on the trip and said, "As this season moves forward, we need to not only work on how to play lacrosse, but how to be good teammates and have a team connection."
Coach Ernest summed up the benefits of the trip and the hopes for a successful season by saying, "We left PHHS as a team and came back from Florida as a family."