Girls Lacrosse wins League Championship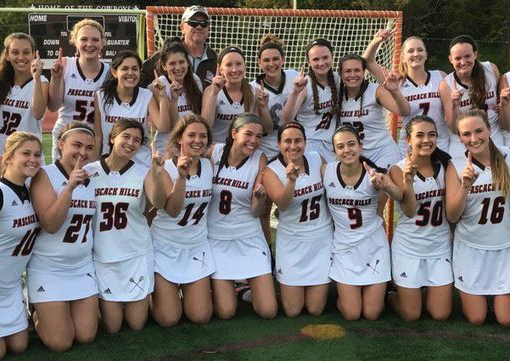 The undefeated Girls Lacrosse team won a League Title for the first time in Pascack Hills history.
After training in Disney this past winter, the team was asked what they are looking forward to most this season. Senior Allie Ernest said she was looking forward to winning a league championship- the girls certainly followed through with this hope.
The program's leader for most goals, Caitlin Ernest, said, "This team overcame being seen as the program that only won a total of one game in its first two seasons and is now undefeated league champions. We worked so hard all season to get this result and I am so happy it paid off."
Coach Lindsey Jachens said, "It's been our goal since early March to win the league championship and this win showed that our efforts all season long paid off. It was great seeing the girls on the team really fighting for each other during this game, and celebrating together after each goal scored and the final buzzer sounded."
This win is an incredible achievement for the program, which only won one game in its first two years of existence.
Ernest described up the close relationship of all team members by saying, "I could not imagine playing with any other group of girls. They are my best friends on and off the field and winning this huge accomplishment with them was truly amazing." The Cowgirls had an incredible season and this win was certainly the perfect ending.