Athlete showcase: Max Zuckerman
The first track meet of the spring season is on April 24, and Hills junior Max Zuckerman, a star pole vaulter, is preparing for his first showing. 
The first track meet of the spring season is on April 24, and Pascack Hills junior Max Zuckerman is currently preparing for his first showing. 
Zuckerman is a star pole vaulter trying to add to his already very impressive track resume. He holds the freshman record at Hills for 12'2 (12 feet and 2 inches) and holds the North Jersey sophomore record of 15 feet. Zuckerman has clear goals set in mind; he is working hard to turn those goals into reality. 
"One of my personal goals for this year is probably to break the school record from Liam Landau. I want to reach 15'8 (15 feet and 8 inches). That would be pretty cool," Zuckerman explained.
Landau graduated from Hills in 2019 and currently holds the school record for the highest jump. Zuckerman is open about Landau being his inspiration for taking up pole vaulting.
"Liam is definitely the reason I started pole vaulting. My freshman year, I didn't do winter track, but I saw Liam winning states and it intrigued me. He 100% helped me get better. I would have never started pole vaulting if it weren't for him," Zuckerman said. 
Zuckerman's current skill level is even more impressive considering he didn't start track until the spring of freshman year. His late introduction into the pole vaulting world did not stop him from trying to reach the highest level.
"
[Zuckerman] is a scholar of the sport and analyzes his jumps and runs, picking out small details to improve his technique and aim for higher heights."
— Ross Koehler, track and field coach
"Max is dedicated, making the hour drive up to the [Hudson Valley Flying Circus Pole Vault Club] two to three times a week to train with some of the best pole vaulters in the country. He is a scholar of the sport and analyzes his jumps and runs, picking out small details to improve his technique and aim for higher heights," said Ross Koehler, head coach of the Hills track and field team. 
He has already made a name for himself and is being recruited by a slew of Division 1 programs. Zuckerman wants to be the best vaulter in Hills history, which also means being the best vaulter in Bergen County history, as [Landau] owns the indoor and outdoor county records," Koehler said. 
Zuckerman's dedication to his sport results in him having high expectations for himself for the upcoming season.
"Performing well at states is something that I'm hoping I can do. Winning and doing well in the SMOCK (state meet of championships) is also something I'm excited for and hoping I do well in," Zuckerman said. 
Zuckerman's persistent work ethic and dedication to his craft are what elevated him to the next level. But, last year and into this year when facilities were shut down for pole vaulting, it became difficult for him to keep on practicing. Because of this, he had to get creative.
Contributed by Max Zuckerman
"The way I improved over quarantine was that I built my own pole vaulting set up in my backyard. I couldn't do it all by myself –– I needed help with it –– but that setup was huge for me. All facilities were shut down for a while, and I needed to find a way to keep practicing," Zuckerman said. 
While his strongest area in track is pole vaulting, Zuckerman participates in many other events in track. Currently, Zuckerman is engrossed in getting his teammates and himself to break the school record for a relay. He has taken on a leadership role on the track team, instilling confidence in underclassmen and helping upperclassmen reach their goals.
"It's a really cool experience practicing with a guy like Max. Not only is he an amazing athlete, but he's just someone you have a great time being around during practices. He'll always help me out if I need something, and I can't wait to compete with him," Hills junior and track teammate Luke Gheduzzi said. 
The Hills track team is excited for their season as they have immense talent on the team. It certainly has a lot to look forward to. 
"They (the boys' team) are one of the most competitive and strongest groups we've had in a while," said Koehler. "While Max might be the biggest name on the team, you should be on the lookout for Shane Jensen, Sean Kearns, Akul Sethi and Eli Behar in distance, almost our entire junior boys roster in the sprints and jumps –– Michael Bease III, Matt Schwartz, Max Zhu, Matt Lokshin.  We also have some talented freshmen in Ben Mandler and Jordan Morrell."
Koehler added, "This year is going to be about developing a championship-caliber team."
In addition to the boys' team, Koehler is excited for what the girls' team has in store for this year. 
"The girls have some dedicated and talented seniors like Nicole Sen, Emma McNierney, and Chrissy Michelis leading the distance team, While Avelina Cerdeira and Olivia Martinez are amongst the top returning throwers in the league," Koehler said. 
The track team's goal is to go far this year, and Zuckerman is one to keep an eye on. His drive, passion for pole vaulting, and teamwork is something that will elevate the level of competition and help the team win.
Leave a Comment
More from the contributor(s):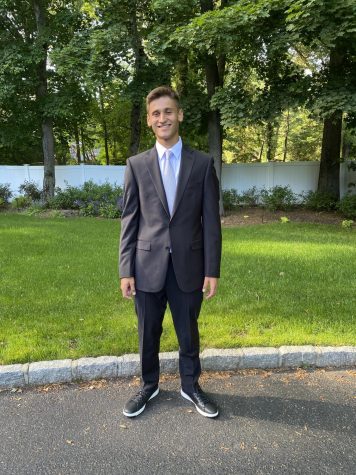 Aidan Berson, Sports Editor
Aidan Berson, a senior at Hills, has been a member of the Trailblazer since his freshman year. Before becoming a Sports Editor, he primarily wrote articles for the section during his junior year. This year, Berson is looking forward to keep writing for the Trailblazer and to edit the Sports section with Shaan Dalal.

Fun fact: Berson can touch his tongue to his nose.