Despite limitations and cancellations, the film industry will get back on track
When asking the Pascack Hills student body about what shows got delayed or canceled because of the pandemic, there were many different responses to how it impacted them, most of them negative.
With the pandemic still going on, people have found various ways to entertain themselves while being stuck indoors. Whether it's baking, sewing, drawing, writing, there are always new hobbies waiting to be found when you're inside for a considerable amount of time. Of course, that includes people watching a lot of TV. And with the rise in streaming sites such as Netflix, Disney+, and Hulu, there's never a shortage in media to consume.
However, despite the huge variety of television to watch, there have been a lot of struggles within the industry in order for them to keep going. Because of Covid-19, people –– namely actors and actresses –– can't be near each other. Ergo, TV shows can't continue their production or must stop it completely; thus, the industry has suffered. 
aDVERTISE HERE

With that comes the cancellation and delay of new shows airing or streaming, as well as the cancellation of a lot of famous shows from which its audience was anticipating a new season. Shows like "The Society", "I Am Not Okay with This", and "GLOW" have unfortunately been canceled and will not be receiving another season. Furthermore, there have been shows that have had their seasons/episodes delayed or pushed back such as "Grey's Anatomy", "Better Call Saul", "Stranger Things", and many more. 
When asking the Pascack Hills student body about what shows got delayed or canceled because of the pandemic, there were many different responses to how it impacted them, most of them negative. Our generation lives in the era of streaming and downloading, so the abrupt pause in the continuation of a multitude of television shows caused a lot of disappointment for many.
"I am a big fan of 'Grey's Anatomy'," junior Riley Solomon explained, "and they had to end season 16 a couple of episodes early." Solomon described how cutting the season to an abrupt end was "a hard situation because there were a bunch of unresolved storylines," as well as how a show like "Grey's Anatomy" had some difficulties with the story being revolved around the medical industry.
When asked about how she felt with the way things left off, Solomon answered, "Obviously, I was upset to not see the end of season 16, but they are already filming season 17, since they are already incorporating safety measures into the show, and I am excited to see what they will do!" Despite the disappointment, many students including Solomon felt because of any type of delays or cancellations, there still is hope. But, of course, the number one priority is safety. 
Junior Sara Galbraith said that "One of my favorite shows called 'Better Call Saul', which is the prequel to 'Breaking Bad', was supposed to get a sixth season sometime soon but was obviously delayed because of Covid-19." Galbraith expressed disappointment with the critically acclaimed show's delay, but she was also "thankful that the cast and crew are taking safety precautions and are at a lower risk of getting ill," which is the silver lining in this entire situation.
Luckily, despite the overwhelming amount of TV shows that are being canceled, there are plenty of shows that are being renewed for another season such as "Brooklyn Nine-Nine", "Killing Eve", "All American", "Love, Victor", "America's Got Talent", "Black Mirror", "Riverdale", "American Horror Story", "Rick and Morty", and many more. So while this struggle with the industry will go on for some time, it definitely won't last forever. 
To take this next step in trying to film safely and carefully, these shows and many others are taking the precautions to conduct tests frequently, as well as take the actions needed for each show based on their variety and how social distancing can be incorporated into that. 
On one hand, you have reality shows such as "America's Got Talent", which is being filmed outside with each judge and performance act being socially distanced. While on the other hand, you have dramas and comedies such as "Riverdale" and "Brooklyn Nine-Nine", respectively, which are doing table reads virtually and quarantining about two weeks before filming. So even with these limitations, the film industry is getting back on track and through our patience and careful actions, it'll soon be as strong as ever.
Leave a Comment
More from the contributor(s):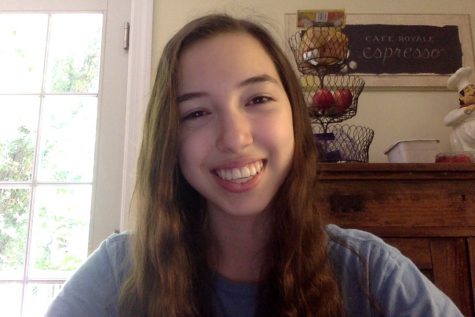 Darcy Bergstein, Arts and Entertainment Editor
Hills senior Darcy Bergstein is looking forward to her second year as a member of the Trailblazer. Before she became an Arts and Entertainment Editor, Bergstein wrote articles for the section as a staff writer. She is excited to edit for Arts and Entertainment alongside Kaitlyn Verde and write more articles in her final year at Hills.

Fun fact: Bergstein's favorite T.V. shows are "Breaking Bad" and "Mad Men."