What New Jersey's school reopening guidelines may mean for Hills
[The content of this article is speculatory and has not been updated since schools reopened in September. Read about the full plan approved by the Board of Education here.] 
After a spring of Zoom lessons and virtual test-taking, many have asked: Will students be back at Pascack Hills this fall? According to Governor Phil Murphy, the answer is yes –– with precautions, and barring a change in the state's Covid-19 trajectory.
At his press conference on Friday, the governor revealed the plan for reopening schools amid the pandemic, which has subsided in the Northeast but is now surging in the South and West of the United States.
The easiest way to dissect the guidelines released by Murphy and New Jersey's Department of Education is by dividing them into "ideal" and "not ideal."
In an "ideal" situation, social distancing –– staying six feet apart from others –– is possible on buses, in classrooms, in the hallways, and in cafeterias. While teachers, staff, and visitors will be required to wear face coverings, students are strongly encouraged to do so in this "ideal" situation.
In a situation that is "not ideal" –– where social distancing cannot be followed –– schools may have to take further precautions. If classrooms are too small or contain too many students to keep everyone six feet apart from each other, the guidelines recommend either placing physical barriers between desks, turning desks to all face the same direction (versus each other), or keeping all students on one side of a table, spaced apart.
Classrooms have the clearest guidelines in this "not ideal" situation; at Hills, there are around 850 students with a student-teacher ratio of 12:1 (National Center for Education Statistics). Most classes at Hills, except for gym and some core classes, do not exceed 30 students, and desks are usually spaced a reasonable distance apart in most rooms. Superintendent Erik Gundersen and the administration will likely clarify how the school will go about social distancing in classrooms in a more specific information release; the schedule could also be designed to reduce student volume in a single class where possible.
On the other hand, school buses, which from experience are usually quite packed during most months of the year, are recommended to keep social distancing by placing one student per row –– per every other row, in an ideal situation. At Hills, this may not be possible unless the school is able to secure more buses to transport students. Thus, face coverings will likely be required for all bus riders, and increased ventilation, such as opening the windows, is also recommended.
At the moment, Hills has what is called a "common lunch," where all students eat during the same 48-minute window. To maintain social distancing in an ideal situation, provisions in the guidance released by the governor recommend staggering meal times, discontinuing self-serve or buffet lines, having students eat outside or in classrooms, and "requiring staff to disinfect eating areas between groups".
If the administration decides to heed these recommendations, the school could take advantage of its courtyards by placing more tables for students to eat outside in the warmer months. However, because eating outside is not ideal during the colder months, this could mean students could be spread out between more eating areas indoors. Right now, the most frequented eating areas are the cafeteria, the gym, and the buffet tables throughout the school's hallways. What will likely be a disappointment to students is if the buffet line is discontinued, but there would still have to be a way for the school to distribute and sell lunch.
These three key areas –– the classroom, the school bus, and the eating area –– have specific guidelines that are recommended in both ideal and not ideal situations. However, there are still steps a school can take to maintain the safety of students and staff across the board.
For example, the governor's guidance recommends schools identify "small groups of students and keep them together to ensure that student and staff groupings are as static as possible." This would help reduce the level of transmission, if it were to occur, between large groups. Because each grade level at Hills contains around 150 students, and a good sum of classes are grade level-specific, this could help with this "cohorting" process. Gym classes, where students all use the same locker rooms, and hallways, where crowdedness in-between periods is not uncommon, could present some challenges in non-ideal situations.
Finally, cleaning staff will be tasked with consistently sanitizing school buildings and school buses. Students and staff should maintain increased handwashing measures at school, especially due to all of the surfaces touched during the school day.
Overall, these guidelines may be more feasible for smaller schools like Hills than bigger schools with thousands of students. While nothing is certain until the administration releases more information, Hills may not have to be concerned with staggering student attendance across school days. And the threat remains that schools could shut down again next school year, with the guidance warning that "districts will need to be prepared to pivot to remote instruction at any time during the 2020-2021 school year."
The school year at Hills and Pascack Valley is scheduled to start on September 3, compared to the usual late August date. Ahead of the governor's press conference, Gundersen sent a district-wide email saying that "our district administration has already begun making preparations for reopening schools prior to official guidance." He said he will release more specific information after the administration is able to fully review the guidance and criteria announced by Murphy.
[Click here to read the full guidelines released by Governor Phil Murphy.]
Leave a Comment
More from the contributor(s):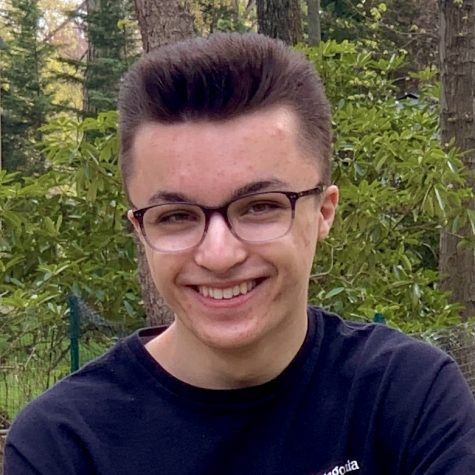 Jared Mitovich, Editor-in-Chief
Jared Mitovich joined the Trailblazer his freshman year as a staff writer. He has helped manage the Trailblazer's social media since his sophomore year, and in his junior year he edited the Opinion section. Now in his final year of high school, Mitovich is looking forward to working with Mackenzie Blowers as Editor-in-Chief along with the entire Trailblazer staff. You can follow him on Twitter at @jmitovich!

Fun fact: Mitovich once met a presidential candidate.