Entering senior year during the Covid-19 pandemic
"I just want everyone to stay safe and healthy while still being allowed to attend Hills, especially for our final year as seniors," said Larissa Aquaviva. 
In March, Hills juniors expected that they would be back in school in a matter of weeks. But, as Covid-19 cases grew exponentially, that time frame began to extend; the two-week approximation soon turned into an all-virtual model for the rest of the 2019-20 school year. Last year's seniors were devastated by losing their senior spring, even with a drive-by and in-person graduation.
Now, the Hills Class of 2021 is entering their senior year in a hybrid model, attending school yet forgoing all aspects of senior year that were once dreamed about. Though they understand the precautions, Hills seniors find themselves saddened by the idea that their high school experience has, essentially, been cut short. Below, three seniors have shared their thoughts on the upcoming school year that they never saw coming. These comments were made prior to the start of the school year via a Google Form.
How do you feel about senior year starting the way it is in a hybrid model with the possibility of going fully remote again?
Larissa Aquaviva: Spending the last year and not experiencing my last's. Such as senior night, the last pep rally, prom, and even things like Model UN and DECA. 
Alexis Kaloustian: I'm so happy to be going back to school, however, it won't be the same. The whole schedule feels complicated; I'm going to school for half the day without seeing most of my friends and finishing the day at home. 
ADVERTISEMENT

Megan Eichner: After attending Pascack Hills for the last 3 years I have grown to love the school and the community that surrounds It. Although, I am very saddened and frustrated to see the choices that were made by the district in regards to scheduling. I am aware everything was thought through thoroughly with students, faculty, and families in mind to keep everyone safe, but I can't help but feel deprived of my final and most eventful year. It is truly heartbreaking that I won't have the opportunity to make genuine connections with all of my fellow seniors before we part ways in June 2021. If there could have been one change made, I would wish for the entire senior class to be able to attend school together. Nevertheless, I know this was a tough decision for the school to make and am hopeful that everyone stays healthy in the midst of this pandemic.
What will you miss most if school goes remote during senior year? (i.e. sports, clubs, prom, etc.)
Aquaviva: I like that we are able to have an in-person first day of school, but the uncertainty is unsettling. It's weird to not know if we are going to stay hybrid or close again. I am grateful though the school is trying to get us in-person. 
Kaloustian: I won't be able to have the experiences I always dreamed of having as a senior. I won't have my junior or senior prom, senior night for my softball season, dressing up for the fashion show, the privilege of going out to lunch with my friends, and more.
Eichner: In the event that the school year is transferred to completely remote I will genuinely miss so much at Pascack Hills. I will miss face to face interactions with my classmates and faculty the most. I will also be devastated to be stripped from so many events I've waited three years for such as leading chants at football games, attending prom, and the Girls Lacrosse Disney Trip. All of these things encompass what it means to be a student at Pascack Hills and I simply can't imagine graduating without fulfilling all these commitments. 
If you're an athlete, how have the changes or cancellations made to your season affected you? [Editor's note: For more information on practices at Hills, click here.]
Aquaviva: It is uncertain if the seasons will even happen, so cheer practices are different because no one knows what we are preparing for. 
Kaloustian: The cancellation of my softball season was so sad because we waited all school year to play. I wasn't able to play the sport I love in the warm weather or spend time with the friends I don't usually see during the school day.
Hills seniors were able to continue some first-day traditions on their first days of school, such as wearing Class of 2021 senior shirts and decorating their cars. Though these traditions were modified due to the pandemic, such as wearing masks while decorating cars, the overwhelming energy from some Hills seniors is excitement for the rest of the year, with the hope to continue this hybrid instruction rather than an all-virtual model for as long as it is possible. 
As recently reported by The Trailblazer, Woodcliff Lake Middle School moved to all-virtual instruction for two weeks following the news that a teacher in the school tested positive for Covid-19. Though not in the Pascack Valley district, the Hills student body consists of students from Montvale and Woodcliff Lake, many with middle school-aged siblings, hence creating a large impact on the high school.
"I just want everyone to stay safe and healthy while still being allowed to attend Hills, especially for our final year as seniors," said Aquaviva. 
JOIN THE TRAILBLAZER

Leave a Comment
More from the contributor(s):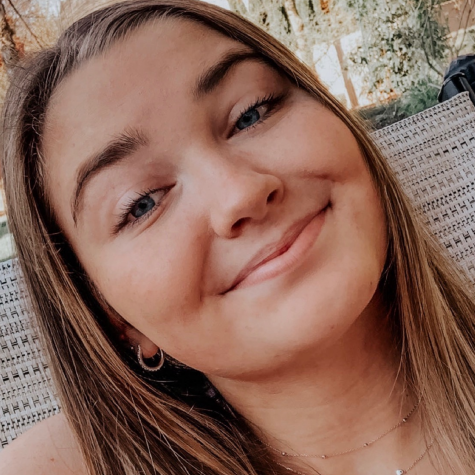 Mackenzie Blowers, Editor-in-Chief
Mackenzie Blowers is a senior at Hills and is excited to be Editor-in-Chief of the Trailblazer along with Jared Mitovich. Before becoming Editor-in-Chief, Blowers edited the College Corner section of the Trailblazer and helped manage the paper's social media. She's looking forward to working with the Trailblazer staff to continue reporting with Hills Pride.

Fun fact: She loves to travel and collects pins from every city and country she visits!