'I just want a season'
The coronavirus started as a virus that many pushed aside. Americans acknowledged its existence but didn't consider the possibility of its harsh arrival and severity. Because of this, our country was not prepared for this pandemic, resulting in chaos ensuing throughout the country. Schools have been moved online, and millions are being advised to stay in their homes.
"If you would have told me a month ago that the coronavirus would have canceled schools and possibly all spring sports, I would have called you crazy," Zach Ginsberg said.
The spring sports season is still up in the air. The state has to come together and make a decision based on the next few weeks. There is a strong possibility that all spring sports can be canceled. This would be extremely brutal for all players, especially seniors.
"A lot of seniors, myself included, have worked for 4 years to get to this spot. It has been a buildup for this year, and the thought of the season being canceled is a scary one," senior baseball player Spencer Berson said.
Most seniors wait 4 years to get the opportunity to start for a varsity team. For a lot of seniors, this spring season was their last chance to play for an organized and regulated sports team. But this is just as heartbreaking for students in other grades.
"I worked extremely hard this offseason. I dreamed of being able to pitch for the varsity team, and this year I could get the opportunity. If this season gets canceled, I will be extremely sad," commented sophomore Jack Silver.
If the season were to be resumed at a later point, the schedule would likely be altered since there would be less availability and time to play games.
"What will probably happen is that each team will only play league games and instead of playing each team twice, they will just play once and from there counties and states will happen after," Silver explained.
Teams are not allowed to practice right now. If there is a spring season, it will certainly be a weird one. But, every athlete can agree that a weird season is much better than no season.
"I just want a season. No matter how many games. Every game helps, we can still reach our goals with an abbreviated season," Ginsberg said.
School is now going to be virtual until at least April 17th. It will be difficult to have a regular season, and there will be abbreviations that teams will have to adjust to. But having a spring season is very important to many students and coaches all over the state.
"It's going to be an adjustment, but everyone should be prepared for it. Students at Hills are generally quick adjusters," reminded Ryan Giammanco.
Sports are a very big part of Hills, but it is not the first priority right now. Keeping everyone safe and healthy is. Right now, students are experiencing history.
"This is definitely one of those stories you will tell your kids in 20 years. Yes, we are all angry, but we have to stay patient and come together. We all have to hope for the best and whatever happens, happens," sophomore Jacob Charnow said.
Leave a Comment
More from the contributor(s):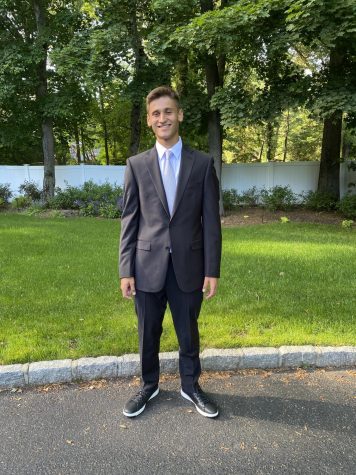 Aidan Berson, Sports Editor
Aidan Berson, a senior at Hills, has been a member of the Trailblazer since his freshman year. Before becoming a Sports Editor, he primarily wrote articles for the section during his junior year. This year, Berson is looking forward to keep writing for the Trailblazer and to edit the Sports section with Shaan Dalal.

Fun fact: Berson can touch his tongue to his nose.