A different type of draft
Scheduled for April 23, the National Football League draft was set to take place in Las Vegas, Nevada, with what was considered by many to be one of the most talented draft classes in recent memory. With talented players such as Louisiana State University quarterback Joe Burrow and Ohio State University defensive end Chase Young taking center stage, and with one of the deepest wide receiver classes of all time, everybody was excited to watch these players have their lives changed as they get drafted by NFL teams, and to watch who their favorite teams would take in the draft. 
Unfortunately, the coronavirus pandemic forced the NFL draft to take place virtually, with all teams communicating via services such as Zoom, instead of the typical draft war room, and the commissioner of the NFL, Roger Goodell, announcing each draft pick from his basement. 
Teams were scared that their Zoom calls could be hacked by other teams. There was also a fear that there would inevitably be technical difficulties with the draft and some teams wanted it to be delayed altogether. Nevertheless, the NFL decided to go through with the draft as scheduled, and it did not disappoint.
Not only did the draft suffer no major technical difficulties, it was extremely successful, and also insanely fun to watch in a time when there are no live sports on television.
"I enjoyed the draft from the comfort of my room," freshman Gunner Ferrall said. "It felt more personal than the normal draft, and getting to see all the players in their homes with their families celebrating, along with watching the general managers of each team doing their work from home was very cool."
"
I enjoyed the draft from the comfort of my room. It felt more personal than the normal draft.
— Gunner Ferrall
It wasn't just one person who enjoyed the draft; in fact, the first round of the draft was the most viewed of all time, reeling in 15.6 million viewers, compared to 11.4 million last year.
As always, whether it is virtual or in front of thousands of people, there are teams that shock the NFL world with who they select in the draft. 
One of the main situations that shocked fans was the draft for Green Bay Packers. The Packers currently have 2x MVP and Super Bowl champion Aaron Rodgers at the quarterback position, and nobody thought Rodgers would have any competition anytime soon, even though he is 36 years old. The "obvious" pick for the Packers would have been a wide receiver since the main problem for them last season was the lack of talent for Aaron Rodgers to throw to. Instead, they traded up in the draft and selected quarterback Jordan Love from Utah State. This was a shock that not only enraged a lot of Packers fans but the entire NFL world.
"I couldn't believe that they did it. Quarterback was the last position I thought they would take in the draft, especially for a team that is trying to win now," sophomore Aidan Berson said.
Another situation that was surprising to fans was the situation with Oklahoma wide receiver CeeDee Lamb. Going into draft night, the thought in many people's minds was that Lamb was the best receiver in the draft class; however, this ended up not being the case in most teams' minds. Lamb, who was thought to land very early in the first round to a team that needed a wide receiver, such as the New York Jets or Las Vegas Raiders, ended up falling all the way to the Dallas Cowboys, who the general public didn't believe would select a wide receiver, at pick 17. Two other receivers, Jerry Jeudy and Henry Ruggs III, both out of Alabama, were selected before Lamb.
"I wanted him to be a Jet, but the fact that he dropped all the way to 17 was a surprise to everybody," sophomore and New York Jets fan Jack Silver explained.
Overall, this year's NFL draft was absolutely unique, taking place completely virtually. Although there were concerns over possible issues surrounding it, the draft ended up being extremely successful and definitely proved to be just as exciting to watch during a time of uncertainty and fear. The NFL could take parts of the virtual draft and apply it to the normal draft in 2021, scheduled to take place in Cleveland, Ohio.
Leave a Comment
More from the contributor(s):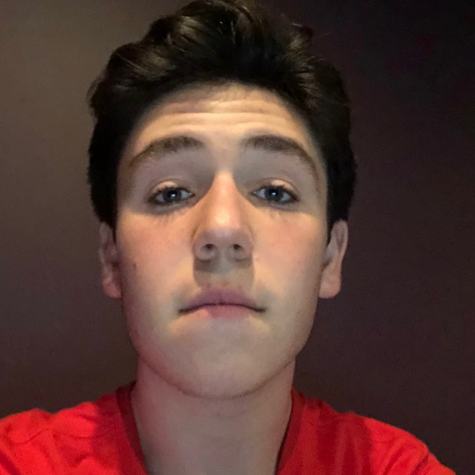 Jacob Charnow, Sports Editor
Jacob Charnow is a junior at Hills and is excited to take on the role of Sports Editor of the Trailblazer along with Izzy Frangiosa. He is passionate about covering the latest in athletics at Hills and is looking forward to the 2020-21 school year!

Fun fact: Charnow is a New York Jets fan.