The Perfect New Shoe Wear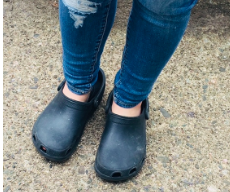 Starting in 2017, Christopher Kane, a Scottish fashion designer, paired his romantic dresses with rubber crocs, debuting the new trend. Crocs, coming in all different styles, is slowly making its way to one of the most popular footwear to wear in the summer. Although this trend may not look the best, they are an easy, comfy substitution for flip flops.
This casual footwear is actually pretty elegant and costy consisting of high quality leathers and designed to distribute weight evenly across the foot. As more time goes on, people are starting to realize that this comfortable shoe is something worth spending your money on. These rounded toed, flat shoes can give a person more joy than any regular shoe.
Sophie Resendes, a sophomore at Pascack Hills, said with a weird expression "I personally do not like crocs and have no desire if them coming back." She continues, "I do think people that wear them really do look good in them, but it is not the shoe for me." As the trend slowly comes back, not everyone is excited about it because some people prefer to look nice rather being comfortable. The other foot wear can cause foot problems that are not worth having. From sprained ankles to severe blisters, crocs are sometimes just the easier choice.
Just last year, the shoes showed up at London Fashion Week, lined with all different styles including fur and charms. There was also a pair of crocs that made its way down the Gucci Cruise 2018 runway. Once more models and celebrities started to wear them, people were getting more inspired and influenced to try something different and bold.
A sophomore at Pascack Hills, Melissa Maday, noticed a lot of the students that are going to an athletic event wear them before games. They are easy to put on and off.  She says "a lot of people on the soccer and lacrosse teams wear it before games."
Styles these days are becoming more basic. For example, girls wear leggings and sweatpants on a daily basis. Because the trends are becoming more casual and comfy, crocs fit right into that bunch.
Stephen Schmidt, a sophomore at pascack hills, said "I have a pair of crocs that I wear all the time at camp. All my friends wear them too, yet I have noticed that more males wear them rather than females." More males wear them because for the most part, they dress more casual. Females want to look nice rather than be comfortable.
Everyone should follow up on the trend and buy themselves a nice new pair of crocs. You can wear them anywhere and they last for a long time. Sarah Chun, a sophomore at Pascack Hills said "I had a pair of crocs when I was little. I really want a pair to wear now because they are so comfortable."