The fall of Broadway
"…Theater is an escape from some people's real lives, and I think some people really feel a void without the presence of Broadway."
One of New York's biggest tourist attractions shut down this past March due to the coronavirus pandemic.  The closure of Broadway will remain in place until June and since the closure, Broadway lovers are devastated, and casts and crews alike are left unemployed.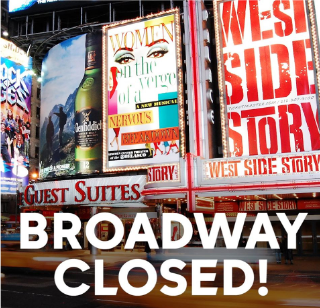 "It's sad that Broadway is closed because many people, including myself, have shows that they were supposed to see, but now can't.  It's even worse for the actors and crew members and thousands of people working on broadway that are now unemployed as well.  With theater, your salary is entirely based on you currently working on a production; so if there is no production, you will not be getting paid.  Also, there are shows that didn't open that were supposed to and shows that are not going to be financially able to come back after this is over," sophomore Riley Solomon explained.
Since broadway closed its doors, audience members are left refunding tickets to their favorite shows, but within that process, the employees suffer much more than the audience as they are left unemployed.
"A charity called 'The Actor's Fund' is currently helping people all throughout the entertainment industry including theater, television, movies, and anyone else who works in the industry who is currently out of a job at this time," Solomon mentioned.
The organization was founded in 1882 as a nationally utilized human service charity dedicated to anyone fighting to make a living while struggling in the art industry.  The service includes counseling, financial aid, housing, and insurance being provided to those who cannot access it on their own.   
Without the presence of the audience's favorite cast onstage, some of them begin to feel the emptiness that quarantine has caused.  
"In such a crazy time, to see Broadway shut down is unreal.  When I heard Broadway was closed, I realized truly for the first time just how serious this is," sophomore Rebecca Cohen said.
The Broadway stage is the center of theater on the Eastern seaboard, and when the company announced its closure in mid-March, many people began to realize the true severity of the situation that had moved into the United States, specifically in New York City. However, with the closure of the company and severity of the case count in the area, Americans boarded up in their homes lack a certain joy and exercise of their imaginations that can be filled by the art industry. 
"I was going to see a show with a bunch of my friends but now since its closure, we obviously can't. I miss all of my friends and the presence of theater, art, and music in my life the way I had it, but I think that during this time, being quarantined and unable to go anywhere, listening to musical playlists and singing has helped me get through it better," expressed sophomore Rachael Lokshin.  
During this time, the news channels report on the coronavirus details including the virus' death toll and the importance of staying away from other people.  Roughly a month into social distancing and the state closure, with the end far away, the essence of freedom as people knew it is diminishing.  Being trapped in confinement, the imagination is left completely alone, and instead of only scrolling through social media and watching Netflix, exploring art and experimenting with the practice can be a therapeutic relief for one's mind during this time.  
This period of social darkness is a new environment for all Americans involved, and the closure of places we are used to being able to go to is something that some still struggle to get used to.  With the closure of the art industry due to the coronavirus, some can argue that in this time of confinement, we need art now more than ever before.  As of now, Broadway has scheduled their reopening for June 7 at the earliest, although specialists predict that date might be extended.  
"Everyone knows this is for the safety of everyone involved so it is for the best.  The Broadway community is so resilient and they know that when they do come back, they are going to be better than ever," Solomon assured.
"
The Broadway community is so resilient and they know that when they do come back, they are going to be better than ever."
— Riley Solomon
Leave a Comment
More from the contributor(s):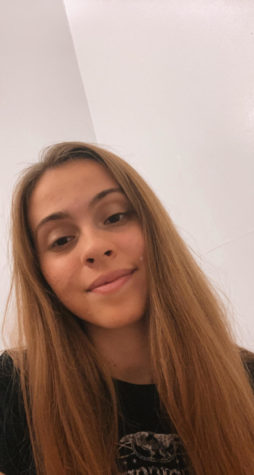 Justine Marinkovic, Editor-in-Chief
Hills senior Justine Marinkovic is very excited to be involved with the Trailblazer for her fourth year.  She is one of the Editors in Chief for the 2021-22 school year. She was an editor for the Arts & Entertainment section for two years before she made the transition to Editor in Chief.