French Fry Heaven
In the East Village—a part of New York City known for its diverse neighborhood, lively nightlife, and aesthetic sensibility—a small, distinctive shop known as Pommes Frites thrives. Don't be fooled by the narrow, closet-sized, old-looking shop; as the cliché goes, "Don't judge a book by its cover."
Pommes Frites in East Village makes one thing and one thing only: it creates the crispiest and the most mouthwatering authentic Belgian fries in New York City. These premium freshly fried potatoes are crunchy on the outside and soft and fluffy on the inside, wrapped in a delightful paper cone.
What stands out about this store is that these 100% fresh-cut potatoes are cooked twice, making them extra crispy and delightfully greasy. The fries' prices are extremely reasonable as well: the regular size, which is still fairly large, is only about $4.50, the large is $6.25, and the extra large is $7.75.
While many of us would eat fries with just the simple condiment ketchup, this store will make you realize what you have been missing out all this time. Pommes Frites has about 30 different sauces to choose from, all unique in taste.
For a dollar a sauce, try some fan favorites like Sweet Mango Chutney Mayo or Rosemary Garlic Mayo. From a mild sweet European mayonnaise to a red hot salty Sambal Olek (an Indonesian spicy paste), there is so much variety to their sauces that there has to be at least one thing that you would like.
Due to its pleasantly strange variety of choices, Pommes Frites won't let you down. (They will allow you to try some samples of each dip before you actually pay for it, too!) If you're still not satisfied with these exceptional and distinctive sauces, you can always have their classic ketchup or mustard for free.
If there is a huge line even out the door, which there often is, do not feel intimidated and walk past this shop; it is completely worth the wait. Rich in taste, it is no wonder why the NY Daily News has noted this shop to be the "best French fries in New York.'
So if you're ever in New York City, stop into the Fry Heaven, Pommes Frites, for an order of delectable fries.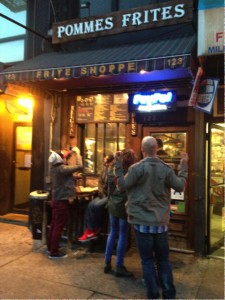 Leave a Comment