Simple Spring Recipes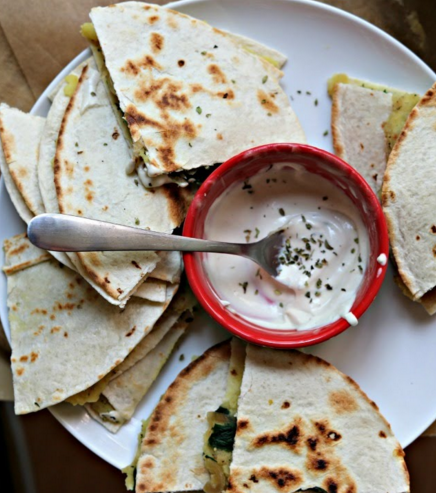 Kale and Sweet Potato Quesadillas
Personally, I'm not a huge fan of kale. But, with it being a superfood, I thought I should try to incorporate it more into my diet. I love this recipe because the sweet potato perfectly compliments (and masks) the taste of the kale, while still offering tons of nutritional value.
Ingredients: ­
1 large whole wheat tortilla
­ 1 handful of kale (washed)
­ 1 sweet potato
­ 1 tsp olive oil ­ salt and pepper
1) To prepare the sweet potato, wash it thoroughly and poke a few times with a knife or fork
(this way, it will not explode in the microwave). Place it in the microwave on high for
about 4­5 minutes, or until soft. After it is done cooking, mash the potato (or use only the
inside) in a separate bowl. Add in the olive oil. Add salt and pepper to taste.
2) Spread on the sweet potato to cover one half of the tortilla. Place a layer of kale over the
sweet potato, covering the same half. *Optional: you may add your choice of cheese, I
would recommend mozzarella .
3) Place the folded (in half) tortilla on a large skillet. Flip when each is crisped. Slice into
wedges and enjoy!
*Recipe calls for 1 serving (with extra sweet potato)
Pesto Avocado Grilled Cheese
This is by far the most amazing grilled cheese I've made… ever! It's also a healthy alternative to the classic grilled cheese recipe.
Ingredients: ­
2 slices of whole wheat bread
­ 1­2 tbsps of pesto
­ 1 handful baby spinach
­ 1⁄2 avocado (ripened)
­ 2 slices of fresh mozzarella (or a small handful of shredded mozzarella)
1) Defrost the bread, if not done already.
2) Spread a very thin layer of pesto onto one slice of the bread. If you do not use the pesto
sparingly, there is a good chance that the flavor will be too strong and the oil will run.
3) Place the spinach over the pesto, add more to your liking.
4) Slice 1⁄2 of an avocado into thin pieces, place over the spinach.
5) Put the mozzarella over the avocado. Place the second slice of bread onto the sandwich.
6) Place the sandwich onto a skillet and don't forget to flip. Cook until the bread is browned
and the mozzarella has melted.
Leave a Comment
More from the contributor(s):