Become a Wildcat at University of Kentucky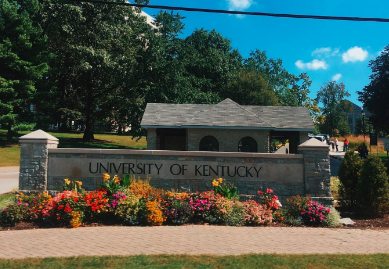 C-A-T-S, CATS! CATS! CATS! At the University of Kentucky, students can flourish from the highly-rated programs and modern classrooms. Lexington is a destination most don't usually notice first on a U.S. map, but the smaller city has slowly turned into a busy, modern center for college students. Though it may not be the number one choice on everyone's college radar, the University of Kentucky is a hidden gem where every student has the ability to flourish.
Located in the city of Lexington, the University of Kentucky has an undergraduate enrollment of about 22,000 students, perfect for those looking for a lively and large campus. The city is small enough to not make one feel confined, yet big enough to give students several things to do on the weekends when its not game day. Though the large amount of students could seem overwhelming, the campus is spread out by the showcases multiple trees, grass fields, and scenic paths. If students wish to travel to a larger city on the weekends, Cincinnati is a little over an hour drive and Nashville is about three, making Lexington the perfect middle point for an eventful and successful college experience.
The University of Kentucky is ranked highly in its Psychology, Pharmacy, and Healthcare fields. Rated by U.S. News as one of the top ten best Pharmacy programs in the country, the college is often recognized nationally for its successful programs. Each student will have the ability to find something that fits them from over 100 program options, whether that be studying in the Gatton College of Business and Economics or the College of Medicine. The school also has a student-faculty ratio of 17:1, and if students need more help in any classes, tutoring is available.
UK is also extremely modern, as over the past few years it has undergone multiple renovations and constructions of several buildings, such as new dorms, a new student center, a large, new library, renovation of the College of Law, and more. The brand new facilities at the University of Kentucky will allow students the ability to flourish as much as possible.
Not only are the academic aspects of University of Kentucky strong, but their athletic programs are nationally recognized each year. The school plays in the NCAA Division 1 Southeastern Conference (SEC) and the basketball team, in regards to their all-time wins and all-time winning percentage, is the most successful NCAA D1 basketball program in history. Even if a student doesn't play a sport at the school, the sporting events contain an excitement that can't be compared to most other colleges.
Though the University of Kentucky isn't mentioned often at Hills, the school should not be overlooked. A perfect distance from home and full of successful academic programs, this college is one that, no matter who the student is, will make anyone want to be a wildcat.