Madam Vice President: Hills students react to history being made
"I think her election into office is a catalyst for a new America," said Pascack Hills junior Michael Blackford of Vice President-elect Kamala Harris.
Madam Vice President: On Jan. 20, Kamala Harris will make history when she is sworn in as the first bi-racial female to serve in the United States executive office as vice president. The confirmation of the official President-elect, Joe Biden, and Vice President-elect was certified by Vice President Mike Pence along with the rest of the Congress after the Capitol Hill riots on Jan. 6.
Harris was born in Oakland, Calif., in 1964 to a mother of Indian descent and a father of Jamaican descent. She is a graduate of both Howard University and the University of California, Hastings College of the Law. She became a deputy district attorney in Oakland from 1990 to 1998 and then later became the district attorney of San Francisco in 2004. In 2012, she was elected as California's attorney general, becoming the first African American woman to hold the position. She rose to higher power once again when she was elected a senator of California in 2016.
During her time in the Senate, Harris has called for criminal justice reform, reconstruction of immigration rights, an increase in the minimum wage, and protection of women's reproductive rights. The Biden-Harris administration has advocated for many of the progressive political ideals that Harris aspired to maintain when she held her Senate position.
The new political stance put forth by the Biden-Harris administration presents a new theme of equality in America. After the transition, the administration promises to establish laws that will benefit all citizens, establishing a strong presence of racial support and women's rights within government systems which are both personal motivations from Vice President-elect Harris.
Students at Hills shared their thoughts on Vice President-elect Harris.
"
I think her election into office is a catalyst for a new America."
— Michael Blackford, Hills junior
"I think her election into office is a catalyst for a new America," said junior Michael Blackford. "In the past, the executive branch has been overtaken by white men, and while some of them have done incredible things for all American citizens, some are often insensitive to certain groups of people in society. I think this was a milestone in history that we should have reached a long time ago, and now that we have, we can start reforming the American justice system to benefit all Americans, not just the typical straight, white, wealthy man."
Jolie Lefkowitz, also a junior, added that Harris "made history as not only the first woman but also the first [woman of color] to hold executive office. I think that Kamala Harris and Joe Biden will be able to bring America back together again and create a society that is welcoming of everyone. It is what we need most right now."
The introduction of the new vice president to the executive branch gives many Americans high hopes that her main goal will be to unite American society and grant equal opportunities to all.
"
I may be the first woman to hold this office. But I won't be the last."
— Vice President-elect Kamala Harris
"If you are fortunate to have the opportunity, it is your duty to make sure other people have those opportunities as well," said Harris in one of her speeches addressing the need for systemic equity instead of inequity. "Imperfect though we may be, I believe we are a great country."
The inauguration of the first bi-racial female vice president will hopefully open a new chapter in American history where the government works to reform the discrimination and bias that goes on within it.
"I may be the first woman to hold this office. But I won't be the last," Harris said on Nov. 7 in her victory speech.
Leave a Comment
More from the contributor(s):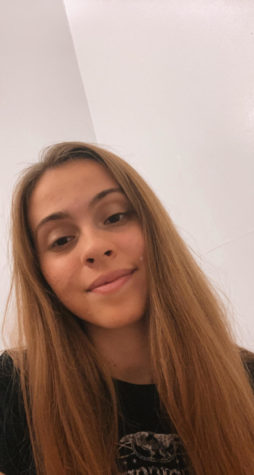 Justine Marinkovic, Editor-in-Chief
Hills senior Justine Marinkovic is very excited to be involved with the Trailblazer for her fourth year.  She is one of the Editors in Chief for the 2021-22 school year. She was an editor for the Arts & Entertainment section for two years before she made the transition to Editor in Chief.