Does Pascack Hills Really Recycle?
When a student at Pascack Hills finishes his bottle of water, he knows that it goes in the blue garbage bin. When a kid in Dinky's room crumples up her latest drawing attempt and throws it away, it goes in the paper bin. Almost every classroom at Hills is equipped with three trashcans: one for paper, one for plastic and one for garbage.
Pascack Hills is a place where students care not just about their grades but also the environment. Well, that's how it seems at least.
Some questions were raised when history teacher Ms. Horn noticed a custodian dumping all of the trash from the three bins into the same bag for disposal. Does Hills really recycle? Why do we make such an effort to be an eco-friendly school if our attempts are thwarted at the end of every school day? Where are our recyclables really going? Why do we have so many different trash cans?!
The recycling conspiracy isn't really as controversial as it's been presented. Mr. Shields, biology teacher and head of the Environmental Club, explained that this is not a new dilemma and it's something the Environmental Club investigated years ago.
So what did the students of Environmental Club find out? These students brought their issue to the district's maintenance manager who then spoke to his custodians and the head custodians.
According to Mr. Shields, what really happens is that custodians "push around a cart that only has room to hold one bag, so the good custodians, the ones who are conscientious about it, go through with that one cart and they put all the trash in that bag and then they get rid of that trash and they put another bag in there, then they go through and they put the recycling in so it looks like they're just throwing it into the same place as where the trash goes but they really have a different bag."
Seems like a pretty good explanation but the Environmental Club followed up on this claim anyway. Luckily, it was discovered after talking to some of our custodians that many of them definitely do it that way, though this can't necessarily be said for all of them. Mr. Shields also turned attention towards the huge recycling bin behind the school that is completely filled with bottles and cans. "There's definitely a lot of recycling going on."
On the other hand, an anonymous custodian explained to Mrs. Horn that custodians are not allowed to separate the garbage because, due to safety reasons, they cannot touch it. This means that they have no way of ensuring that all of the recyclables are really recyclables so they put it all in the same trash bag. That being said, the custodian later went on to explain that it doesn't matter either way because the company in charge of the trash sorts it, so, either way, we are recycling.
Two different stories are being presented here but it seems that in either case our recyclables are being recycled and Hills really is the eco-friendly school we've all believed it to be after all.
Leave a Comment
More from the contributor(s):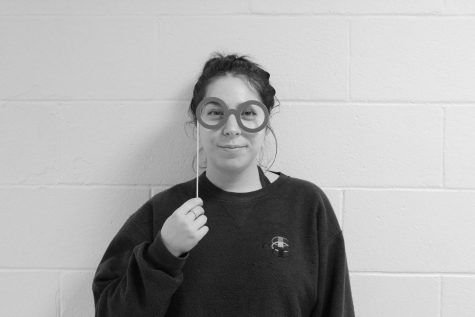 Sophie Miller, Opinion Editor
Sophie Miller is a senior this year at Hills. This is her third year being part of the Trailblazer and she couldn't be happier about it. Sophie loves art, whether it's simply listening to music and visiting a museum or documenting her own adventures through photography and writing.