TAC: Ready to Relay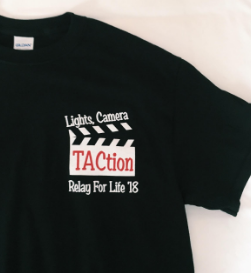 Teens Against Cancer, also known as TAC, has been one of Pascack Hills' most popular clubs for the past few years. Throughout the school year, the club continuously fundraises and creates awareness in multiple aspects, whether it be through selling salsa or creating signs to help promote Dig Pink, a volleyball tournament that the PHHS Girls' Volleyball team competes in to raise breast cancer awareness. However, though those are big events, TAC is about to have their biggest and most important event yet: Relay for Life.
Relay for Life is an event that TAC participates in through The American Cancer Society (ACS) and is known as their signature event. There are thousands of relays across 27 countries, as is stated on ACS's website, but Pascack Hills will be joining The Relay for Life of the Pascack Valley. The relay will be hosted at Emerson Jr./Sr. High School on April 28, 2018, from 12 pm to 12 am with schools such as Emerson High School and Pascack Valley joining as well.
During Relay for Life, people continuously walk on the track for 24 hours, representing the ongoing fight against cancer. Then, after sunset, hand-decorated Luminaria-which were decorated by Pascack Hills students- are lit to remember those who have passed away from cancer and honor those who are still fighting.
"I can't wait for Relay," smiled freshman TAC member and Dig Pink participant Liz Mashini. "Dig Pink was so much fun and I think Relay will be the same if not better."
Each year ACS creates an overall theme for the relay, and this year's theme is Hollywood. Teams are to decorate shirts and banners representing the theme. PHHS TAC chose to use the phrase "Lights, Camera, TACtion" on the front of the shirt, as well as an area on the back in the shape of a star to represent someone that each student will be walking for. Several PHHS TAC members are excited about the relay and are especially happy about all the money they've raised for the organization leading up to the event. Jess Gudin, a freshman and first-time TAC member, managed to raise $1,241.
"I'm so happy that I was able to raise so much money for such a good cause," said Gudin happily. "It was worth all of the hard work because cancer research is so important to me and my family and it is really great to know that I contributed to finding a cure."
Pascack Hills raised over $25,000 in total for the relay, easily beating their $10,000 goal and raising the highest amount out of all of the teams. The donations are still coming in, and the entire club is continuing to work towards raising more money.
Junior Arielle Goldberg, one of the leaders of the club, was very happy with how much money they raised and is extremely excited about this year's relay. She was one of the head students of the club who helped make the banner for this year's Relay, which focused on the Hollywood theme."I relay for my mom," spoke Arielle. "I think Relay is important because it is a way to honor the people who beat cancer and remember those who didn't win their battle."
Madame Conboy is the supervisor of Teens Against Cancer and the teacher that allows the club to participate in the event. She has been the supervisor of the club for multiple years at Hills and is the second supervisor to take part in the club at Hills. Madame has made sure that students were able to attend Relay and raise money, along with helping students be part of such a big and important cause.
"I've been the advisor of Teens Against Cancer for many years," spoke Madame Conboy. "The reason I love doing this club is because it offers our teens the opportunity to work for something that's a big cause, it's bigger than they are, and everyone's lives will be touched by cancer at some point, sadly. This is a way for us to have hope working toward a world with more birthdays."
If you are not in TAC, there is still a way to help out. Online donations on the American Cancer Society's page will be accepted until August. People can go to Pascack Hills' team page to donate, or find a student in TAC and go to their page. Though Relay is soon, people are given time to make donations and a difference. Helping to support the American Cancer Society and PHHS Teens Against Cancer through donating will give the opportunity for research allowing TAC and ACS to fight for a cure so that people can have more birthdays.
Senior Caitlin Mcquade is very excited to be a part of Relay for Life. "I love Relay for Life because it allows my peers and I to get together and see all of our hard work come to life to fight for an important cause," she smiled.