More Than Just a Security Guard: Mr. Miller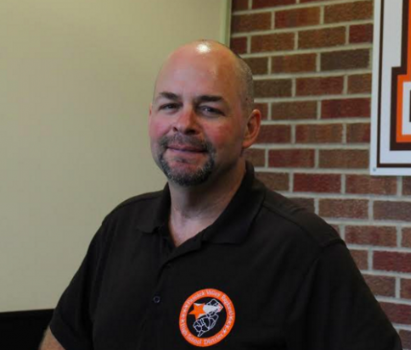 Everyday, when you walk in through the front entrance at the beginning of the day, you are greeted with a smile from Matthew Miller, sitting at the front desk. While many people can recognize the security guard that greets them every day, not many people know his story before he came to Pascack Hills. 
"In 1988, I became a police officer in Woodcliff Lake," said Miller. "I started as a patrolman, then became a detective officer, then a DARE, then a detective, then became a sergeant, and retired as a lieutenant. I did 27 years in the borough of Woodcliff Lake and I loved every bit of it. 
"It was a noble profession. The best part of my job was coming to work everyday. I loved what I did because of just how rewarding it was."
Thus, after retiring at the age of 50, with a position for a  security guard at Pascack Hills High School opening up, it felt right for Miller to come back and do what he loved, but with not as much pressure. 
"What happened was I retired and this job came up, and I said 'you know what?' It would be a great transition from being a police officer to just having a purpose here, but not having the responsibilities as I did as a police officer."
The job was a match made in heaven. When asked how his experience at Hills has been, Miller replied a confident, "Awesome. I've been working here for five years and I feel like I have a good relationship with most of the students."  
The more relaxed environment of Pascack Hills has changed Miller for the better, allowing him to take it easy and greet students he passes in the halls.
"I'm a different guy than I was when I was a police officer. I try to be nice, but I'm not here to frighten anyone. I'm here to help," Miller said.
While he may no longer be an official officer for the Woodcliff Lake Police Department, Mr. Miller's duty to protect and serve the community still remains.
"Yeah, if something did happen, I'm here. My colleague, the other security guard, did save a girl's life by doing the Heimlich Maneuver.  Even though I'm just a security guard, I'm still a class 3 police officer. We have weapons and handcuffs. I've used the AED ten times. I've done CPR thirty times in my career."
Even with his security duties, Miller still manages to keep a positive attitude and take time to interact with the students.
"Mr. Miller is a great guy," said freshman Hilary Siegel. "It's nice seeing him in the halls and when I come into school."
"I'm not worried about being in danger because I trust the security guards," said freshman George Geanopulos. "Mr. Miller is a great guy. He's always friendly."
If there is ever a problem, students and staff know that they can rely on Miller to keep them safe.
"One thing I do know," Miller said, "if something is happening in this school, I will go there."