The Importance of Project Paterson
Project Paterson allows students at Pascack Hills to spread the holiday joy beyond the district.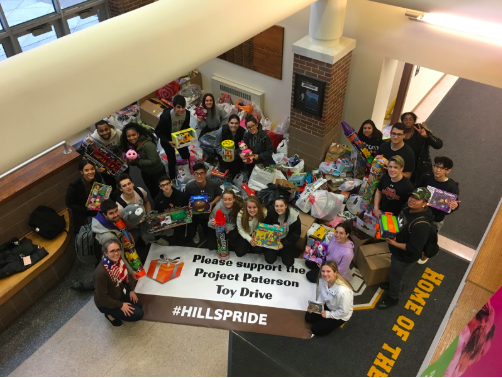 Tis' the season to spread the holiday spirit by giving rather than just receiving. Although many children have the expectation that they will get gifts during the holidays, the reality is that many can only dream about having that luxury. 
"Project Paterson is a community service club at Pascack Hills High School and boasts approximately 150 members.  There are various events and activities that occur throughout the school year, but the Toy Drive is definitely our biggest push," Ms. Mahaffey, leader of the organization,  said. 
Project Paterson allows students at Hills to spread the holiday joy beyond the district. This week, members of the club will be gathering gifts and giving them to a school in Paterson. These presents are supplied by donations from students attending Hills. 
"We are going to the Community Charter School of Paterson. In order to gather gifts, we wrapped boxes and made posters so people would have the opportunity to donate. Our goal is to then take it to the school and give to the children," Preet Patel, a member of the club, said. 
This club offers more than just being able to bring joy to other communities. A member of this club, Orestes Docampo, explained how being apart of Project Paterson gave him a sense of happiness due to the fact that he can give back and watch others fill with the holiday spirit that many know and love. 
 "This club makes me feel accomplished because I am able to help kids who are less fortunate. With Project Paterson we are able to give new gifts to kids who may not be able to afford it which really demonstrates the holiday spirit,"  Docampo said. 
This club exemplifies the typical merry moods that people normally feel during this time of year because it allows every person involved to gain some sort of positive outcome. Project Paterson is one of Hills' most valued traditions because all parts of the community can contribute to this great cause. 
 "For our first Toy Drive, which was ten years ago, we collected a little more than 200 toys, but last year we collected 1,601 toys! Mr. DeMarrais referred to the Toy Drive as a 'Pascack Hills tradition' because it is something the community rallies behind every holiday season," Ms. Mahaffey said. 
Considering that Hills has a club that allows students to donate time and effort to others demonstrates that if people come together positive changes can be made, even if it is one gift at a time.