District math department to switch course order
Starting next year, those that are entering high school and are not in an advanced math course will start with Geometry instead of Algebra I.
On Monday night, the Pascack Valley Regional High School District Board of Education listened to a curriculum presentation focused on science and math, recognized student achievements, and talked about sports coverage. 
Mark Russo, District Supervisor of Math and Computer Science, gave an update on the math department and how the course order will change next year. Instead of incoming students who are taking grade-level math starting with Algebra I as a freshman, they will take Geometry first.
"I'm confident that this will be a positive change for our students," he said. 
"
I'm confident that this will be a positive change for our students."
— Mark Russo, District Supervisor of Math and Computer Science
The goal of this change is to have the algebra courses taught in sequence, rather than having geometry in between them. 
Russo also said that one new Advanced Placement (AP) and four Dual Enrollment courses will be added to the curriculum, which will give new opportunities to hundreds of students. The AP Course is for pre-calculus. 
Megan Graziano, District Supervisor of Science and Technology Education, also gave an update. She discussed teachers presenting nationally and locally at workshops, focusing on problem-solving within lessons, and the new 3D printer that will be installed at Pascack Hills over the summer. 
Earlier in the meeting, students in the district were acknowledged by the BOE for their achievements. Student Representative Olivia Ge and Superintendent Sarah Bilotti also gave their monthly reports. 
The Pascack Valley Regional Dance Team was recognized for their placings at Nationals. They received 1st place for Small Division Pom, 4th place for Large Team Performance, and 5th place for Medium Hip Hop. 
Hills senior Emily Sailer was also recognized for being awarded the New Jersey State Interscholastic Athletic Association National Girls and Women in Sports Award, which honors the recipient's athletic contribution and "honor[s] the progress and continuing struggle for equality for women in sports."
One final recognition was given to the Hills Wrestling Team for winning Bergen County Small School Team of the Year. They ended the season with a 20-8 record and had individual state qualifiers as well as honorable mentions. 
At the end of the meeting, the BOE briefly discussed old and new business. 
In relation to the athletic achievements, BOE Member Michael Weaver said that coverage of the girls athletics is "not reaching the expectation." He thinks that there is less coverage for them than for boys athletics, and specifically mentioned the Bergen Record. 
BOE Member Debra Stephans ended the meeting by congratulating the students in the district's plays: Mamma Mia and Chicago. 
"Great job to everybody involved…the students did a great job," she said. 
Leave a Comment
More from the contributor(s):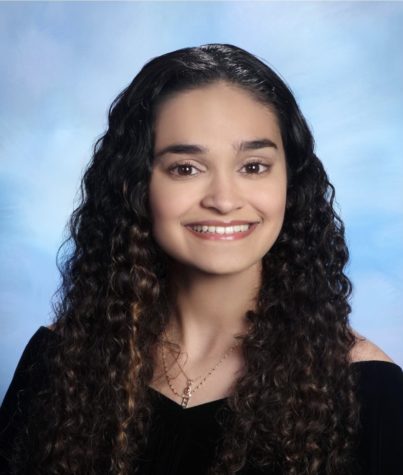 Briana Keenan, Editor-in-Chief
Briana Keenan is a senior at Hills. She joined the Trailblazer her freshman year as a staff writer and edited for the In-Depth and School News sections her sophomore and junior years, respectively. This year, Keenan is looking forward to being the publication's Editor-in-Chief and continuing to write, edit, and manage stories for the Hills community.

Fun fact: Over the summer, Keenan went to the School of the New York Times for two weeks.