That's So Disney: Fashion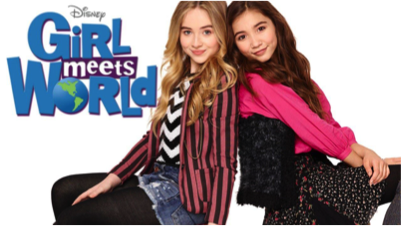 Editor's Note: The following is an opinion-editorial.
We all watched Disney Channel shows years ago, and it gave us a certain, glamorous perception of high school. We looked up to the characters, especially what they were wearing. It gave us inspiration for how to dress when we needed to in the future.
The other day I wanted to relive my old obsession with The Disney Channel, so I started watching one of their newest shows, Girl Meets World. I noticed something about their outfits – they were definitely not something I would see around school.
First of all, everyone wears too many patterns that clash, or prints that clearly don't go together. Only on Disney will you see a girl wearing a striped shirt with a polka dot sweater and a zebra-striped skirt.
They are also guilty of wearing too many layers. They usually have two shirts layered on top of each other, paired with a sweater. Skirts and shorts are mostly accompanied by leggings or patterned tights. And, get this – they wear heels. These girls, who are supposed to be in middle and high school, wear wedges and pumps to school as if it were normal.
If you don't know what type of outfits I'm talking about, tune into Disney Channel and see for yourself. The shows guiltiest of this are Girl Meets World, Ant Farm, Liv and Maddie, and Shake It Up.
It makes you wonder what the designers for these shows are thinking, because they never wear realistic outfits. I guess Disney wants to promote "expressing yourself" and being who you are, but this is just ridiculous.
Old Disney Channel shows represented teen fashion in a much more realistic way. Each character's outfits represented his or her own unique personality. For example, Harper in Wizards of Waverly Place always had crazy, outgoing outfits that reflected her personality and her love of designing clothes. Raven Symone was also an aspiring fashion designer, which was why she always wore runway-type clothes.
Lizzie McGuire wore nerdy sweaters to reflect her geeky teenage personality. Miley Stewart wore simple, country clothes to represent her Tennessee background. When she was Hannah Montana, she wore bright, sparkly clothes because she was a pop star living the dream. London Tipton was clearly fashionable and rich, which you could tell by her sparkly, pink outfits. Maddie was her sarcastic, introverted friend who didn't care about fashion and always rocked the schoolgirl look.
You get the point. Disney Channel fashion has evolved from truly reflecting a character's personality, to having a shallow, yet crazy and weird sense in fashion. I can speak for everyone my age by saying Disney was much better in the past. Nothing these days reflects the character's personalities, which makes for a poorly written show with shallow characters. Disney needs to change how it presents its characters now, starting with dressing them better.
Leave a Comment