Trump – Unfit for Presidency
Editor's Note: The following is an opinion-editorial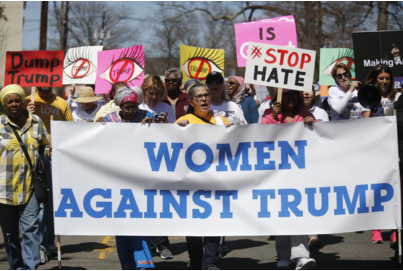 "He was like an octopus…his hands were everywhere."
"I was very young, and I remember feeling kind of embarrassed, like wanting to turn and almost wipe my mouth. Like, what just happened?"  
"I was so upset that he thought I was so insignificant that he could do that."     
11 women have come forward with accusations of sexual misconduct against Donald Trump in the past few weeks, ever since the tape emerged of Donald Trump boasting about how he's able to get away with groping women because he's a "star." He says that with his kind of social status, "You can do anything. Grab them by the p—y. You can do anything."
He also said, "I've gotta use some Tic Tacs, just in case I start kissing her…you know I'm automatically attracted to beautiful – I just start kissing them. It's like a magnet. Just kiss. I don't even wait."
Once this tape went viral, Trump was confronted by angry Americans who were appalled by his disrespect and indecent behavior towards women. The release of this tape quickly led to many American women coming out to tell the nation that one of our presidential candidates had sexually harassed them in the past.
These women who have mustered up the courage to come out publicly and speak against the popular presidential candidate should be applauded; this is especially  considering Trump is threatening to sue those who he insists are falsely accusing him. Regardless of these threats they are being faced with, these women are not backing down.
I believe that Trump should be condemned for his inappropriate behavior. A man who has consistently proven himself to objectify women is unfit for becoming the president of the United States of America. American values involve respect for other races and genders. How does a man who shows a complete lack of respect for women share these values?  
A female junior, who requested anonymity, said, "When girls are growing up, and Trump is the head of the country how are they going to feel that they have rights and that their opinions count?"
According to The United Nations Entity for Gender Inequality and the Empowerment of Women, known as UN Women, when more women work, economies grow. Also, 22.8% of all national parliamentarians were women as of June 2016. If Trump becomes president, it is likely that women would lose their respect in society. They could potentially lose great opportunities for their futures, which would worsen the American economy as a whole. Rather than progressing with the times, as a nation we would deteriorate in our efforts to bring complete equality for women in all aspects.
It is shocking that Americans continue to support this man who has consistently proven himself to lack the values and morals our president needs to have. With only a few days left until the election, it is important that Americans understand the true character of one of our presidential candidates who will supposedly "make America great again."