Hasidic Jewish Group Suing Montvale for Anti-Semitism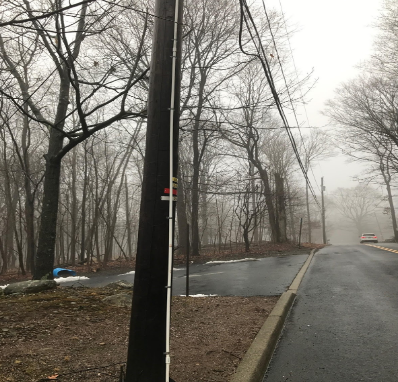 Cate Heverin
February 15, 2018
Disclaimer: I am not anti-Semitic, and the views expressed in this article are in no way an attack on people of the Jewish faith.  
Montvale sits right on the border of Chestnut Ridge, New York, a town that, within the last three to five years, saw a massive influx of Orthodox Jews, who now make up a large portion of the town's population. Though Orthodox Jews frequently use Montvale facilities such as the TD Bank and the CVS on Chestnut Ridge Road, they are rarely seen walking around – that is because Montvale has denied giving Hasidic Jews the ability to hang eruv lines. Eruv lines are characterized by white pipes tied to telephone poles that allow religious Jews to leave their house and walk on Saturday and religious holidays, when they are not allowed to drive cars.
That is, until now. A group, the Monsey, NY based Bergen Rockland Eruv Association, has accused anti-semitism on Montvale and has hired a Manhattan Law Firm to take legal action for the denial of hanging the lines. The Bergen Rockland Eruv Association wants to extend the eruv border into northwest Bergen County into the towns of Mahwah, Upper Saddle River, and Montvale. But, all three towns have denied them in the past saying it violates local zoning laws, causing the association to file lawsuits against all three towns.
The controversy occurred over the summer when the association attempted to hang a twenty six mile eruv traveling through Mahwah (a town being sued by the state of New Jersey for attempting to pass a law to ban the eruv lines and ban anybody who is a resident of New York from using the town's public facilities, clearly targeted towards Hasidic Jews), Upper Saddle River, and Montvale. Mahwah and Upper Saddle River reluctantly agreed, but the project was halted by Montvale officials at the border of Montvale as, according to town law, the poles constituted as "litter." Yet, the association claims they received permits to hang these on Chestnut Ridge Road and Summit Avenue in Montvale from Rockland and Orange Utilities in 2015.
The original plan was to hang eruv coming from Weiss Road in Upper Saddle River, which turns into Upper Saddle River Road in Montvale, then turning down Chestnut Ridge Road, making a left at Dairy Queen onto Summit Avenue, and then straight into Pearl River, NY. This would include covering over 240 houses in Montvale alone. However, there is now a Plan B, which is to continue hanging the Eruv lines down Upper Saddle River Road, up Fox Hill Road, into Chestnut Ridge, NY.
Many living within the borders of the eruv are upset and have expressed concern.
The most common concern is that by permitting these eruv lines, which are essential for Hasidic neighborhoods, these towns will become more inviting for large groups of Orthodox Jews and spark an "invasion" which will lead to a decimated  public school district, like those seen in New York, due to a lack of public school funding. Although the group has clarified that these lines do not mean there will be an "invasion" -a word they used themselves – and that it is only a right to allow them to walk through the town.  
Junior Britney claims "I wish they'd understand that we aren't trying to discriminate in any way, it's just Montvale is crowded enough with all these townhomes and construction sites at every corner. We don't want it to be more crowded."
In my opinion, towns often give into the demands of Hasidic Jews out of fear of massive lawsuits, like that plaguing Woodcliff Lake over the denial of allowing them to build a religious school, or out of avoidance of being deemed anti-semitic, despite the fact Montvale and Woodcliff Lake are home to a large Jewish population, many of whom are against the hanging of the eruv themselves.
Sarah, a Pascack Hills student who celebrates Judaism herself, said, "It's not anti-semitic that people don't want them hanging eruv lines. People just don't want poles on the street that get in the way. It has nothing to do with Judaism."
To avoid such a lawsuit, the mayor of Montvale announced he is going to say yes to them hanging the lines when the final decision is to be called on Tuesday, February 13th, despite the concerns of residents in Montvale.