Standing up Against Hate: We are Pascack Hills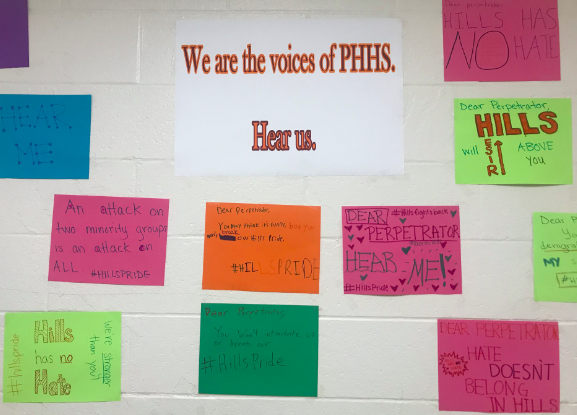 It's Friday afternoon at Pascack Hills. You are eager to leave school and start your weekend. You rush out of your World Language class, but first make a quick stop at the boy's bathroom. You expect nothing to be any different. But today, you find yourself greeted with hate. Swastikas and racial slurs are carved into the stall for all to see like a hateful art gallery.
On Friday, November 30, swastikas and racial slurs were found on the C-Wing boys' bathroom stalls at Hills. The bathroom was immediately closed from students and staff to allow the security guards and Montvale Police Department to hold an investigation.
The following Monday, an email was sent out to Pascack Hills students, parents, and staff to bring awareness to what happened on Friday by Superintendent Erik P. Gundersen.
"Let me be perfectly clear: a person who marks anything with swastikas or racial slurs is not demonstrating freedom of speech – they are committing both hate and bias crimes," wrote Mr. Gundersen in his email to the students and staff.
The hate symbols and a racial slur were removed from the bathroom. Currently, the person responsible is unknown. The Pascack Valley Regional High School District administration is still searching for any leads on the incident.
"Finally, we have set up an anonymous tip form for people with information who prefer to remain unidentified.  This survey is COMPLETELY anonymous. It is a Google Form that collects two pieces of information: the information you type into the form, and a timestamp of when the form was submitted – nothing more," Mr. Gundersen wrote in his email.  
On Monday morning, the Hills staff was notified of the incident at a staff meeting. Throughout the day, administration visited every English class to make sure every student understood the importance of the incident and that it is in no way tolerated.
Pascack Hills is encouraging families to discuss this difficult topic by contacting school counselors, speaking with religious leaders, and leveraging the Anti-Defamation League.
This news comes just as the celebration of Chanukah begins for the Jewish community. The holidays are supposed to be a time of kindness and love, and these acts certainly contradict this.
Pascack Hills is a second home of kindness where everyone is accepted. These recent actions go against all of the pride that the administration constantly instills in this building and will not be tolerated.
Pascack Hills is not a place that tolerates anti-semitism, racism, or bullying of any kind. We do not sit idly by and hope for change, we make a change. We are Pascack Hills.