BOE to discuss merging cohorts
At their meeting on Monday, May 10, the Board of Education will discuss moving both high schools to full student capacity for the remainder of the 2020-21 school year.
At their meeting on Monday, May 10, the Pascack Valley Regional Board of Education will discuss merging cohorts A and B for the remainder of the 2020-21 school year. A discussion of the schedule was noted in a district news brief published Friday, and Superintendent Erik Gundersen clarified to the Trailblazer that the BOE would specifically talk about combining cohorts and moving to full student capacity.
There is currently no indication that action will be taken by the BOE at their Monday meeting.
Since September, the district has implemented a hybrid schedule at Pascack Hills and Pascack Valley to provide in-person learning while mitigating the spread of Covid-19. Students have been split up into two groups, cohorts A and B, based on last name. They have had the choice of attending school entirely from home or attending school in person every other day during the morning. At lunch, in-person students go home, and all students attend class virtually for the remaining two periods of the day.
Currently, teachers attend school in person every day of the week and have been charged with providing both synchronous and asynchronous learning for students in both cohorts.
The impending discussion of combining cohorts, which may still keep the current schedule in place, reflects the Covid-19 pandemic's quickly changing dynamics and the growing number of students attending school in-person –– 85% as of April 26, according to Gundersen.
In March, the Centers for Disease Control and Prevention announced that schools could decrease social distancing in classrooms from six to three feet –– if they aren't located in a "high transmission" area. At the time, Pascack Valley Regional was located in a "high transmission" area, with Covid-19 cases on the rise. Gundersen said returning to full capacity was therefore not feasible as the district would not be able "to comply with social distancing guidelines."
However, in the past month, cases have decreased and the area was downgraded on April 27 to "moderate transmission" by the New Jersey Department of Health. This means, with a go-ahead from local health officials, the district could space desks three feet together instead of six, fitting more students in classrooms.
Some school districts in the region have already returned in-person at full capacity, but Gundersen said in April it was because "less than half of their students have chosen to be in-person at school."
Leave a Comment
More from the contributor(s):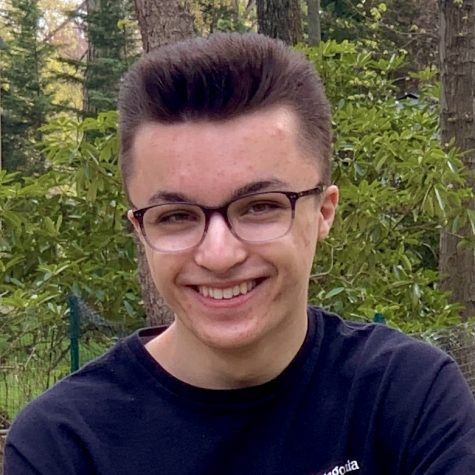 Jared Mitovich, Editor-in-Chief
Jared Mitovich joined the Trailblazer his freshman year as a staff writer. He has helped manage the Trailblazer's social media since his sophomore year, and in his junior year he edited the Opinion section. Now in his final year of high school, Mitovich is looking forward to working with Mackenzie Blowers as Editor-in-Chief along with the entire Trailblazer staff. You can follow him on Twitter at @jmitovich!

Fun fact: Mitovich once met a presidential candidate.