PHHS Winter Sports Preview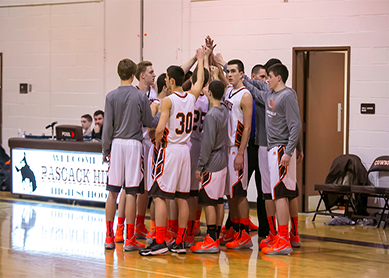 Jake Bellmer
December 11, 2015
It's that time of the year again. The cold has settled in as well as the winter sports programs. The Winter Sports Season is finally upon us. The sports played in the winter offer many thrilling and must-see action including basketball and wrestling. Here is the preview of this winter's sports season's top players and what to expect for your Pascack Hills Cowboys.
Girls Basketball: After graduating four seniors, the girls look to surprise people this year in the Big North Patriot Division. This year's team will be relying on its young, but experienced players. The girls' have the talent to be very good team, as long as they work hard and have a no-lose attitude. Look out for this group of girls; they are hungry for a successful 2015-2016 season.
Last Year's Record: 7-14
Rivals: Ramsey and River Dell
Key Players: Catie Ernest, Allie Ernest, Libbe Christophel, Erin Hedrick, Steph Samani
Boys Basketball: It's hard for any team to say only reaching the Semifinal Round of the North Jersey Section 1 Group 2 Tournament was a subpar season. The boys won four straight Section 1 Group 2 Championships before last year's loss to Manchester in the semifinals. This year they expect to back where they belong. Four seniors graduated, but this year's team is very deep and extremely talented. Coach Kirkby is working the boys hard every day, in chase for another championship. Expect a thrilling and impressive 2015-2016 season for the Cowboys.
Last Year's Record 15-13
Rivals: Mahwah and Ramsey
Key Players: Evan Schumer, Nick Guillemain, Evan Lazarus, Stevie Steiger, Jason Shill, Kevin Michael
Wrestling: Last year's wrestling team was shockingly historic. Coach Bucco led the team to a Big North Patriot Division Championship and his expectations haven't lowered. After the graduation of a handful of seniors, this year's team looks to be relatively similar. Some players will have to step up, but the team is hungry, no matter what. Expect an excellent 2015-2016 season for the wrestlers.
Last Year's Record: 23-4
Rivals: Emerson and Dell
Key Players: Ben Brisman, Phil Mendola, Joe Keller, Deven Deppert, Sal Campana, Dom Campana
Swimming: 2014-2015 was a great season for the girls in swim. They reached the North Jersey Section 1 Public A final. They won their 5th straight league championship as well. The girls' team looks very similar and will be one of the strongest teams in recent memory. For the boys, they struggled yet again. They lost handful of seniors, but they are ready to prove people wrong. Expect to hear good things from the swim team this year.
Last Year's Record Girls: 9-2
Last Year's Record Boys: 5-6
Rivals: River Dell
Key Players: Sarah Litvinsky (Hills), Sophie Messinger (Hills), Tori March (Hills), Cassidy Freeman (Valley), Chris Vindigni (Hills), and Elias O'Connor (Valley)
Ice Hockey: In a loaded conference, Pascack Valley/Hills' ice hockey could be in for a tough season. The roster is filled with youth, so Valley's Matt Truglio, Trent Shanley, and Hills' own Alex Sobel will need to lead the team. Younger players will need to step up big in order for a successful and bounce-back 2015-2016 season, after losing a handful of seniors.
Last Year's Record: 9-10-6
Rivals: Tenafly and River Dell
Key Players: Matt Truglio (Valley), Trent Shanley (Valley), Stephen Brennan (Valley), Keith Doherty (Valley), Alex Sobel (Hills)
Winter Track: This season should be very exciting for the runners. They lost a bunch of seniors, but this unit is very talented. The team works very hard no matter what the weather. The boys and girls want to be successful and expect them to be in 2015-2016.
Last Year's Record: No Duel Meets
Rivals: Westwood and Ramsey
Key Players: Keith Petrellese, Josh Sen, Anthony Michielini, Jack Rossig, PJ Skibin, Cameron Boggio