Hills Senior Paul Sullivan Commits to Iona College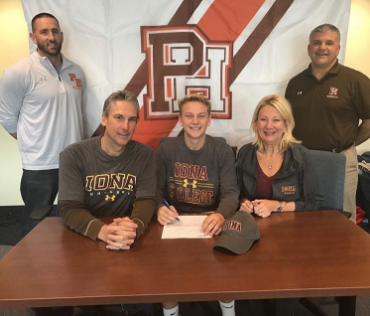 Senior pitcher and infielder Paul Sullivan has committed to Iona College for baseball. The verbal decision came in July, but things were not made official until signing day in November. Paul has been a vital contributor to the Hills baseball program going back to his freshman year. Incredibly winning Bergen County Athlete of the week as a freshman, an outstanding feat.
The news that he was going to college to play baseball did not surprise many, but where he chose may have turned some heads. Committing to college is a hard decision for anyone. With Sullivan, the decision came down to a few schools, but deep down, when it came down to make the choice, he knew Iona was the place for him. When asked what made him feel Iona was the correct choice, he responded: "Over the past few years I have visited a lot of colleges and Iona was never really on my radar. My dad played baseball at Iona and the summer going into my senior year I was invited to a baseball camp there. After leaving the camp I realized I didn't feel the same way about any other college. I liked the size of the school, the location, and the baseball program. The coaching staff wanted me more than any other school I talked to and that really made me feel at home." Sullivan playing for the school that his father went to is a choice that he can be proud of.
Sullivan is a wonderful baseball talent, and following in his father's footsteps is a major accomplishment. Sullivan has statistically been a huge asset to the cowboys in his 3 years as a varsity letter earner. His freshman year, he threw a complete game, no-hitter in a 10-0 win against Westwood. To have the composure, consistency, and ability to throw a no-hitter at the varsity level as a freshman is telling of Paul's skill on the mound. His combination of Fastballs that top out at 87 miles per hour, a dipping curveball, and a cutter that leaves hitters fooled, makes him one of the cowboys' most reliable starters. His junior year stats both on the mound and at the plate cemented his status as a key player. Just last year, he was 6-2 on the mound, pitched 41 and two thirds innings, and struck out 46 batters. He had an incredible ERA of 1.68. As a hitter, he had a batting average of .310, including an important 4 for 4 in the state finals that helped the cowboys win it the championship. His 26 walks as a hitter helped him lead the team with an on base percentage of .486. Almost half of all of Sullivan's at-bats ended with him on base. His incredible year did not go unnoticed, as he was honored with second team all league as a utility player.
When a player like Paul comes through a program, he has a lasting impression on all players that encounter him. His leadership and athletic abilities make him a standout on the field. When asked about Sullivan and his accomplishments, Varsity Baseball coach Kevin Kirkby had this to say about him, "Paul deserves everything that he has gotten from Iona.  He has been a huge part of helping turn this program around into a state sectional champion last year.  He stepped in as a freshman and has been a key cog on our pitching staff, defensively and at the plate.  He is a true leader and I am so proud of everything he has earned and accomplished.  I am looking forward to coaching Paul one last season in the spring but at the same time, I will be very sad to see him graduate.  He has been a huge asset to our program and the Pascack Hills community". This is high praise from coach Kirkby. But if there is anyone that deserves recognition like this, it would be Paul.  
Sullivan has been apart of many memorable Hills baseball moments. From his incredible no-hitter to winning the state section, he has done so much on the field. When asked what his favorite moment was, he took a minute to reflect, "My favorite hills baseball moment was being in the dog pile with my teammates after winning the state sectional finals and seeing how happy everyone was. Parents, coaches, and players all had he smiles on their faces and it was just a great feeling." This is telling of Paul's attitude on the field. If his team is happy, he is happy. Personal stats do not bother him, the only thing that matters is getting a win. He knows that if he does his job and contributes to his best ability, the team will be tough to beat.
This year, Sullivan and the Cowboys are looking to repeat as state sectional champs, and potentially go even further. Returning essentially the entire pitching rotation from last year, there will be plenty of heat on the mound for Kirkby and the team. Along with Sullivan, the rest of the rotation includes senior Jack Brodsky, Maryland commit Ryan Ramsey, and Villanova commit Brandon Siegenthaler. You will be hard-pressed to find a more talented and experienced rotation in all of the county. Sullivan has big hopes for this season. He goes on to say, "I could go on for a while talking about what I think this upcoming team could accomplish. First is to win the sectional finals again, win the group finals, and make a run in the county tournament. As long as everyone on the team buys in, all of these team goals are very possible with the talent that we have coming in this year. I have never been more excited about a season in my life." Sullivan is not the only one who shares the same excitement for the upcoming season, as players up and down the roster are hungry for their time as the team with the target on their backs.
It will be very interesting and exciting to see Paul and the rest of the Cowboys chase glory, and with leaders this team has like Sullivan, anything is possible.