Hills Girls Tennis Knocks off County Champions and Number One Seed Ramsey in State Tournament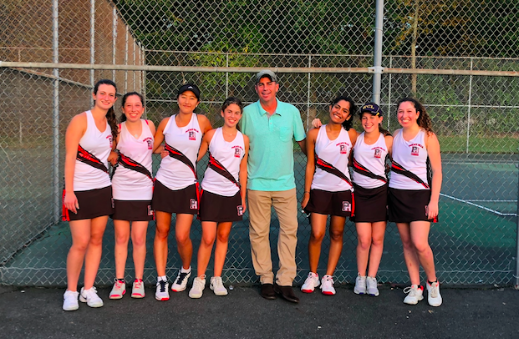 On Tuesday October 9th, the Pascack Hills Girls Tennis team pulled off an incredible upset, beating the recently crowned Bergen County champions, and league rivals, Ramsey in a thrilling 3-2 victory. Hills, the seventh seed in the tournament, knocked off the one seed in dramatic fashion.
Victories by Junior Maya Schwartz in third singles, and Seniors Carly and Sami Haberfield in first doubles, along with tough-fought losses by Senior Ruoya He in first singles and Senior Julia Schwartz in second singles left it all on the shoulders of the first doubles pairing of Freshman Lindsay Fleishman and Junior Ria Sah. The winner of the fateful fifth match would move on in the state tournament, keeping their season alive, while the loser would go home. Fleishman and Sah's match came down to a tie-breaker, where in the end the Cowgirl pairing took the final five points in the match and ensured a victory for Hills. The win booked the Cowgirls a ticket to the North 1, Group 2 semifinals against third seed West Essex with a trip to the championship on the line.
Sometimes being an underdog can be an advantage, as the pressure can be relieved and it allows the girls to play freely. Senior Carly Haberfield commented on her thoughts heading into the match, and what not being favored to win the match meant for the team by saying, "The Ramsey players are amazing tennis players as the county champions, but Coach Ganz always believed in our ability to beat them.  We weren't expected to win so we just went in knowing there was no pressure.  We had a really good feeling about the day and knew we were going to play our best no matter what." The Hills girls knew, and have now proven, that when they stick to what they do best, they can compete with anyone. In an intense setting like a state tournament, anything can happen, and Hills came with their best effort. With the talent that both sides had, it was going to come down to who wanted it more, and who was going to step up and make the plays that mattered, and on this day, it was the Cowgirls.
In a sport like tennis, many may think it's a solo sport, or at best a duo sport. But with this Hills team, it was noted time and time again that the comradery and togetherness of this unit are what makes this run so special. Senior Sami Haberfield commented on the team's continuity, "Our team is very close this year in general, and I think that has impacted our success since we know that we have a supportive team.". When it comes to big games like these, having the support and backing of a whole team can be a huge confidence booster. Hills rode off the energy of each other to power themselves into the state sectional semi-finals. A huge accomplishment for any team.
On the varsity tennis team, the players range in grades from seniors down to freshman. Being a freshman on varsity, playing with the state tournament on the line, can be a big moment for anyone. Hills Freshman Lindsay Fleishman, along with her partner Ria Sah, were the ones responsible for the final win that pushed Hills past Ramsey. Lindsay, like Carly, agreed that being an underdog in this kind of match can be an advantage. Fleishman commented on her mindset before the match by saying, "I was expecting to play for fun, as my partner and I weren't really expecting to beat Ramsey. We had fun and tried our best to stay positive and mentally tough throughout the pressured match, which turned out great in the end." Positivity and confidence seem to be underlying virtues throughout this team, and it has led to great things.
Coach Eric Ganz was incredibly happy with his team's win. He commented on the victory by saying, "That was one of the greatest wins we have ever had in this program. We have definitely had stronger teams over the years but in terms of a complete upset, no one ever thought we could beat a team like that and that is up there with the best wins in program history. What made it so remarkable is we had 4 brand new doubles girls this year who had never played doubles before, and both of them got crushed in the two games against Ramsey earlier this year so they were 0-4 heading into that match. They were able to both win those double spots and it gave us our only chance to beat them. It just shows the improvement from the beginning of the season till now." Ganz is incredibly proud of this group of girls and hopes to ride the momentum into the next game.
The Cowgirls have their next state tournament game against three seed West Essex on Friday. If they win, they will be in the state sectional championship. Hopefully the Cowgirls can pull through victorious and win a state championship.