College Board to Introduce New SAT in 2016
Most high school seniors will cringe if they are asked about the Scholastic Aptitude Test (SAT); most juniors will refuse to talk about it; and underclassmen have yet to experience the rigorous preparation for taking this examination required by most colleges in the US.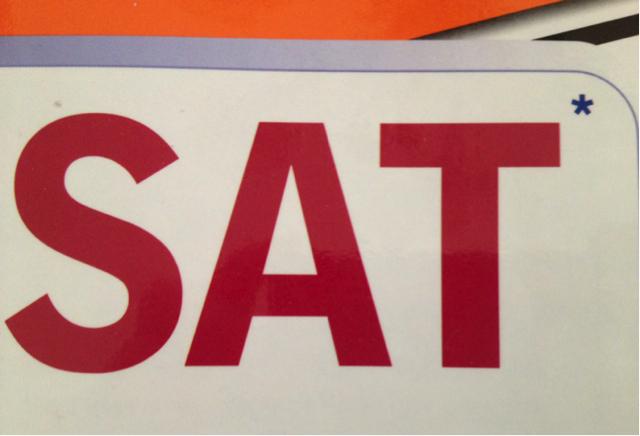 The College Board, the non-profit organization that runs the SATs, has recently announced a "redesigned" SAT to be introduced in Spring 2016 in print and, at certain testing sites, online. This new format of the universally known test will mainly impact current freshmen.
There will be three sections: Evidence-Based Reading and Writing, Math, and Essay.
According to the College Board website, the redesigned SAT is designed to better reflect real world (as in college and career) contexts. It will be administered in the same time frame as it is now: a little under four hours. The Evidence-Based Reading and Writing section and the Math section will be scored on a 200- to 800-point scale, with the Essay scored separately.
These are the eight key revisions found on this new SAT:
1. Relevant Words in Context
This revision entailed the testing of meanings of more relevant words. The College Board claims that flashcards and memorization of "obscure" words will not help you here because all the revamped vocabulary is real world relevant. Students will be tested on meanings of words depending on the context of a passage, rather than a statement.
2. Command of Evidence
All three SAT sections will revolve around identifying, analyzing, and applying contextual evidence. Informational graphics and passages taken from literary and non-fiction will be presented. Each passage will require at least one question asking to "select a quote that best supports the answer."  Also, there will be questions that will ask test-takers to analyze the passage "grammatically and substantively." Students will be asked to edit passages in an effort to improve the passage's clarity. Text and graphic application is also necessary.
3. Essay Analyzing a Source
The Essay section "will be very different" from the current one, according to the College Board. In 2016, the essay section will consist of a reading passage and prompting the student to explain how the author builds his/her argument and to apply evidence from the passage. This was changed with the intention of "more closely [mirroring] college writing assignments." The essay prompt will remain consistent, but the passage will vary. This section will remain optional, though some school districts and colleges will require it.
4. Math Focused on Three Key Areas
The Math section will revolve around the following: Problem Solving and Data Analysis, the Heart of Algebra, and Passport to Advanced Math. Overall, the math section will test quantitative literacy, linear knowledge, and abstract/complex thinking.
5. Problems Grounded in Real-World Contexts
The SAT test will be more well-rounded, integrating not only reading comprehension and mathematics but also science, humanities, and career contexts in order to be more relevant to work found in both college and career environments. Charts and graphs will be found throughout all three sections and math questions will be based off of real-life contexts; they will present scenarios and pose several mathematically modeled questions regarding the presented scenario.
6. Analysis in Science and in Social Studies
Students will have to apply reading, writing, and math skills to science and social studies contexts in each section. The College Board is looking for test-takers to "be consistent with data presented in graphics, synthesize information presented through texts and graphics, and solve problems based in science and social science."
7. Founding Documents and Great Global Conversation
Basically, historical American documents such as the Declaration of Independence and the Bill of Rights will be found in each SAT exam. American values such as freedom, justice, and human dignity will be integrated into posed questions and passages (e.g. an excerpt). The College Board "hope[s] that [it] will inspire deep engagement with texts that matter and reflect not only what is important for college and career, but what is important for citizenship here and around the world."
The last and (I think) the most important revision of the SAT is
8. No Penalty for Wrong Answers.
Currently, answering incorrectly will cost you a quarter of a point. However, like the AP Exams, the 2016 SAT will feature no point deductions for incorrect multiple-choice responses.
Though many aspects of the SAT are being changed, change may not necessarily be a bad thing. If the College Board, being a private company, finds that this redesigned SAT is losing colleges' interest and store after its first season in 2016, maybe further revisions will be made. For now, high school students all over the US will focus on the current design of the SAT.
Leave a Comment